Banksy - Surveillance in Cheltenham.
Cheltenham is home to the British Intelligence Service's Government Communications Headquarters or GCHQ for short. It's where the Security Service MI5 and the Secret Intelligence Service MI6 carry out some of their work. As part of this they have the power to monitor communications, a process that as Edward Snowden's leaks have revealed is carried out on an industrial scale. Surveillance is nothing new but the sheer volume and ease with which it can be carried out now is something new. Oddly these stories have a tendency to disappear very quickly from the media, usually accompanied by a terse statement from GCHQ that it's all nothing to worry about. For example:
"Our work is carried out in accordance with a strict legal and policy framework which ensures that our activities are authorised, necessary and proportionate, and that there is rigorous oversight, including from the secretary of state, the Interception and Intelligence Services Commissioners and the Intelligence and Security Committee".
Err, so that explains why GCHQ have intercepted millions of webcam images taken in peoples homes via Optic Nerve of which 3 – 11 per cent contained images of people in states of undress? Was this authorised, necessary and proportionate? You're an adult, I'll let you decide.
So this piece by Banksy is topical and it helps to keep the story in the media. GCHQ even provided a quote on the art work: ""This is the first time we have ever been asked to comment on art. "Although we are not qualified critics, we are as intrigued as the rest of the residents of Cheltenham about the appearance of the mysterious artwork. For those who are interested, our website gives a glimpse of what modern-day intelligence operatives are really like, although some may be disappointed by the lack of trench coats and dark glasses."
Disappointed maybe but hardly surprised given that these are not essential items for modern surveillance.
Since the piece has appeared it has been painted over and restored and become quite a tourist attraction with a steady stream of visitors interacting with the art as captured by this time lapse video. The local authorities have taken an interest in the piece so if you'd like to see it without a plexi glass covering get down to the junction of Fairview Road and Hewlett Road, like now.
STATUS: Still there, but now behind hoardings as arguments go on over its fate.
photo: artofthestate.co.uk 2014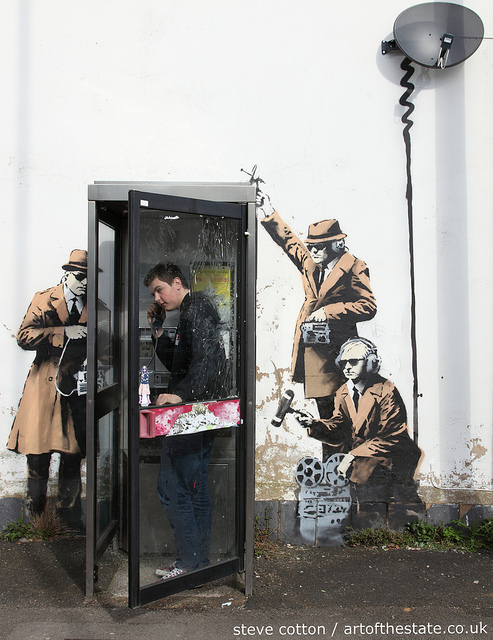 Banksy Surveillance artwork in Cheltenham, UK.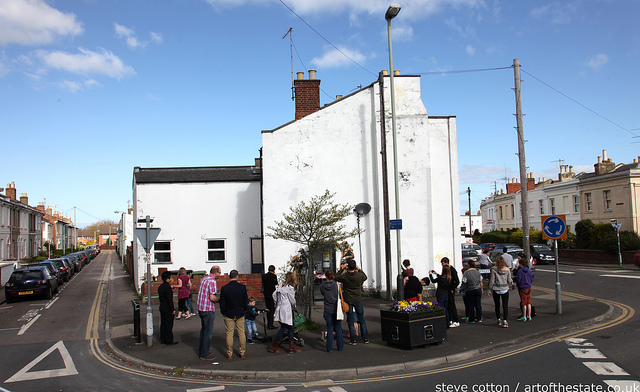 Banksy news - read the aots banksy blog
Banksy street work photo galleries
London 0 1 2 3 4 5 6 7 8 9 10
11 12 13 14 15 16 17
Bristol / Seaside
USA / Europe
Banksy off street photo galleries
Turf War 1 2 3 4
Crude Oils 1 2
Barely Legal 1 2
Cans Festival 1
Banksy versus Bristol Museum 1 2
Santa's Ghetto 2003 2004 2005 2006 2007 2010 - M&S
Other Banksy Exhibitions 1
Banksy film and videos
Exit Through The Gift Shop DVD and film
Banksy videos
Banksy prints
screen prints / photo prints
Banksy books
Banging / Exist / Cut It Out / Wall and Piece /
All Banksy Books
Official websites
Banksy.co.uk (the real deal)
picturesonwalls.com (prints)
pestcontroloffice.com (authentication)
Banksy - stuff for sale quick links




Banksy FAQ