Banksy - 'Highwayman' on the A40 Westway / rail route into London Paddington
As if it wasn't getting enough views from the motorway already it's also visible from the main line into London's Paddington station terminus. It's probably London's most high profile location for getting noticed.
Shot taken from a train window.
STATUS: Removed.
All photographs copyright artofthestate 2009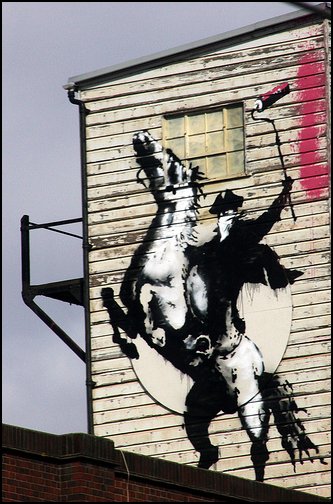 Banksy - Highwayman
Banksy news - read the aots banksy blog
Banksy street work photo galleries
London 0 1 2 3 4 5 6 7 8 9 10
11 12 13 14 15 16 17
Bristol / Seaside
USA / Europe
Banksy off street photo galleries
Turf War 1 2 3 4
Crude Oils 1 2
Barely Legal 1 2
Cans Festival 1
Banksy versus Bristol Museum 1 2
Santa's Ghetto 2003 2004 2005 2006 2007 2010 - M&S
Other Banksy Exhibitions 1
Banksy film and videos
Exit Through The Gift Shop DVD and film
Banksy videos
Banksy prints
screen prints / photo prints
Banksy books
Banging / Exist / Cut It Out / Wall and Piece /
All Banksy Books
Official websites
Banksy.co.uk (the real deal)
picturesonwalls.com (prints)
pestcontroloffice.com (authentication)
Banksy - stuff for sale quick links




Banksy FAQ