Banksy Keep It Real chimp, Shoreditch, London
A small stencil by Banksy of the Keep It Real chimp in Shoreditch.
This picture winds me up every time I see it because it reminds me that around the same time that I took it I nearly bought a canvas version of it from Pictures on Walls. I emailed to ask if it was still available, they replied back yes, I said 'OK' and then they said 'its gone'. I think that was probably the last time I could have afforded anything original by Banksy (it was something like £400.00 at the time). Prices are now so stratospheric that I've given up on ever getting one. Grrr....
STATUS: Buffed
All photographs copyright artofthestate 2003 / 2011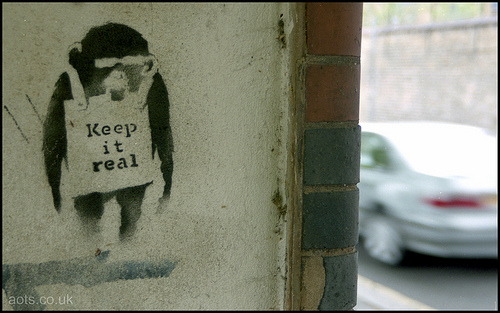 Banksy Keep It Real chimp
Banksy news - read the aots banksy blog
Banksy street work photo galleries
London 0 1 2 3 4 5 6 7 8 9 10
11 12 13 14 15 16 17
Bristol / Seaside
USA / Europe
Banksy off street photo galleries
Turf War 1 2 3 4
Crude Oils 1 2
Barely Legal 1 2
Cans Festival 1
Banksy versus Bristol Museum 1 2
Santa's Ghetto 2003 2004 2005 2006 2007 2010 - M&S
Other Banksy Exhibitions 1
Banksy film and videos
Exit Through The Gift Shop DVD and film
Banksy videos
Banksy prints
screen prints / photo prints
Banksy books
Banging / Exist / Cut It Out / Wall and Piece /
All Banksy Books
Official websites
Banksy.co.uk (the real deal)
picturesonwalls.com (prints)
pestcontroloffice.com (authentication)
Banksy - stuff for sale quick links




Banksy FAQ