Banksy - Chair smash (based on London Calling album cover
The Clashís London Calling album cover is widely considered to be one of the best album covers of all time. Its a photo that is far from technically perfect but it captures a moment of rage beautifully. Photographer Pennie Smith didnít rate the shot good enough because it was out of focus and Clash bassist Paul Simonon quipped ďI wish Iíd lifted my face a bit moreĒ but thatís part of its appeal. Itís not perfect, itís done at speed and that looks true of this new Banksy piece on a pretty much always busy road directly opposite the headquarters of a large international news organisation.
Whatís it about? Well to me it looks like someone has had more than enough of the nine to five.
STATUS: Buffed
photo: artofthestate.co.uk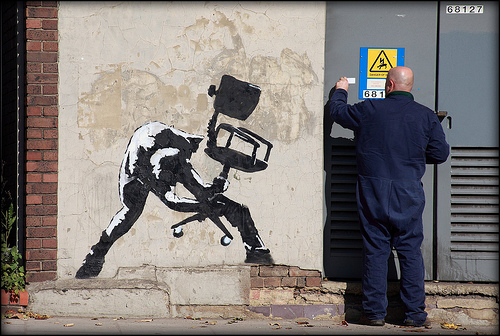 Banksy chair smash
Banksy news - read the aots banksy blog
Banksy street work photo galleries
London 0 1 2 3 4 5 6 7 8 9 10
11 12 13 14 15 16 17
Bristol / Seaside
USA / Europe
Banksy off street photo galleries
Turf War 1 2 3 4
Crude Oils 1 2
Barely Legal 1 2
Cans Festival 1
Banksy versus Bristol Museum 1 2
Santa's Ghetto 2003 2004 2005 2006 2007 2010 - M&S
Other Banksy Exhibitions 1
Banksy film and videos
Exit Through The Gift Shop DVD and film
Banksy videos
Banksy prints
screen prints / photo prints
Banksy books
Banging / Exist / Cut It Out / Wall and Piece /
All Banksy Books
Official websites
Banksy.co.uk (the real deal)
picturesonwalls.com (prints)
pestcontroloffice.com (authentication)
Banksy - stuff for sale quick links




Banksy FAQ