Banksy 'Keep Britain Tidy'
Banksy - Keep Britain Tidy - Shanklin, Isle of Wight, in a car par park at the foot of the Cliff lift.
Keep Britain Tidy offered their opinion on the piece.
Phil Barton, Keep Britain Tidy's chief executive, said: "The more common 'tagging' is seen as offensive, blighting the environment and leading to an increased fear of crime but the more community-based art is seen in a different light.
"The problem is the so-called 'nice' graffiti – like Banksy's Keep Britain Tidy image – accounts for less than one per cent of all graffiti and, of course, depending on where it is may cause significant problems for the property owner.
"Many councils now look for innovative ways of dealing with grafitti (sic) and we support this. It can be a powerful way to engage with children and young people in their local communities."
Whatever, I don't think Banksy is going to sign up to their anti graffiti campaign anytime soon.
Status: painted over in white to match the white painted burnt out old toilet block it had been painted on.
Image from woostercollective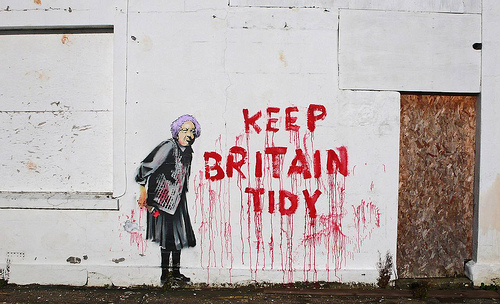 Banksy 'Keep Britain Tidy'
Banksy news - read the aots banksy blog
Banksy street work photo galleries
London 0 1 2 3 4 5 6 7 8 9 10
11 12 13 14 15 16 17
Bristol / Seaside
USA / Europe
Banksy off street photo galleries
Turf War 1 2 3 4
Crude Oils 1 2
Barely Legal 1 2
Cans Festival 1
Banksy versus Bristol Museum 1 2
Santa's Ghetto 2003 2004 2005 2006 2007 2010 - M&S
Other Banksy Exhibitions 1
Banksy film and videos
Exit Through The Gift Shop DVD and film
Banksy videos
Banksy prints
screen prints / photo prints
Banksy books
Banging / Exist / Cut It Out / Wall and Piece /
All Banksy Books
Official websites
Banksy.co.uk (the real deal)
picturesonwalls.com (prints)
pestcontroloffice.com (authentication)
Banksy - stuff for sale quick links




Banksy FAQ