Banksy Barely Legal LA show Demi / Bart Simpson
The image on this canvas was used in the flyers and posters advertising Banksy's largest American show to date. I think it's of Demi Moore (but it's been ripped off so many times I'm not sure) and Bart Simpson.
And I really am an idiot for not going to the show so a big thanks is due to Moff for all of these photos.
all LA Photos courtesy of Moff ©2006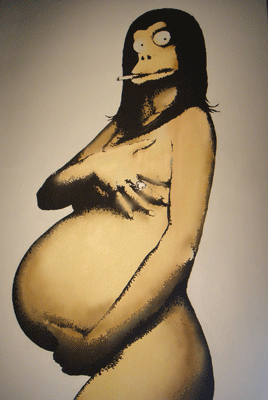 Banksy Barely Legal LA show Demi Moore / Bart Simpson
Banksy news - read the aots banksy blog
Banksy street work photo galleries
London 0 1 2 3 4 5 6 7 8 9 10
11 12 13 14 15 16 17
Bristol / Seaside
USA / Europe
Banksy off street photo galleries
Turf War 1 2 3 4
Crude Oils 1 2
Barely Legal 1 2
Cans Festival 1
Banksy versus Bristol Museum 1 2
Lambeth Palace 1
Santa's Ghetto 2003 2004 2005 2006 2007 2010 - M&S
Other Banksy Exhibitions 1
Banksy film and videos
Exit Through The Gift Shop DVD and film
Banksy videos
Banksy prints
screen prints / photo prints
Banksy books
Banging / Exist / Cut It Out / Wall and Piece /
All Banksy Books
Official websites
Banksy.co.uk (the real deal)
picturesonwalls.com (prints)
pestcontroloffice.com (authentication)
Banksy - stuff for sale quick links




Banksy FAQ