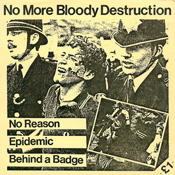 No Reason to Hate EP
This was great (no really it was)! It was even better when our Guitarist Matt did all the Steps type dance routines to go along with the lyrics..."There's no reason to hate" (grimace like a loon), "We're all part of the human race" (run on the spot like a loon etc, etc). We understand it sold like Naomi Campbell's album and that Adam still has 300 copies holding up his bed. Don't believe the crap on the cover of some copies of the single sleeve where the image is blanked out because of "shocking nature" of the picture or some other rubbish. The real reason was the drummer and guitarists father said they couldn't use the photo as they didn't own the copyright! Anyway this was NMBD at their rawest and possibly their best.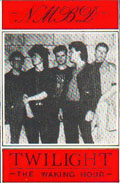 Twilight - The Waking Hour
Despite the addition of a guy out of Showaddywaddy (OK Jason - see the bloke on the right) this is a fine release containing one of the bands most memorable songs "Mind's Eye". We lost our long standing gig sharing relationship around this time as they moved off to play the established rock circuit circus (Mean Fiddler, Rock Garden) and got themselves a manager. A shame really 'cos one of the best things about being in a band at the time was the local scene and how (almost) everybody worked together to make things happen.