BBC Broadcasting House, Langham Place, London
Broadcasting House was opened in 1932. The building is clad in Portland stone and its stepped appearance at the front is a concession to regulations regarding the right to light of other buildings in the area. It gives the front of the building the appearance of a ships bow.

There is a fantastic history of the building here.

To order a hi-resolution copy of this photo click here (image reference LDN-BBCHSE-1)
All photographs copyright artofthestate 2014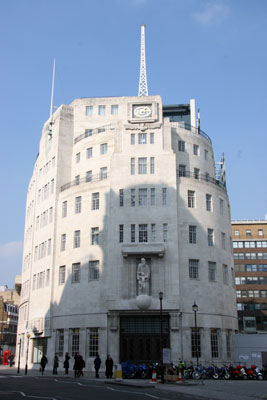 BBC Broadcasting House, Langham Place, London
LONDON PHOTOS INDEX
London architecture
1
2
3
4
London art deco buildings
1
2
3
4
London art galleries
London bridges
London Canary Wharf
1
2
London churches and cathedrals
London - the City
1
2
3
London Dali Universe
1
London Eye
London Heathrow Airport
London parks & gardens
1
2
London Paddington Basin
London statues, monuments
London motorways and traffic
London museums
London at night
London public art
1
London seasonal celebrations
London snow
London South Bank
1
2
3
London sport stadiums
London stations
London street art
London suburbs
1
London Thames Path
London theatres
London Tourist photos
1
2
3
London transport
1
2
Text list of London photos
For non London galleries
click here