York Road Station - disused London Underground Station
York Road Station opened in 1906 on the Piccadilly Line closing some 26 years later in 1932. The journey time of four minutes between Kings Cross and Caledonian Road stations either side of York Road gives a clue that a station has been removed - it's unusually long for central London.
All photographs copyright artofthestate 2012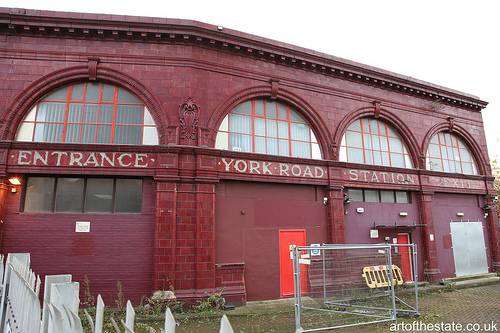 York Road Station (disused).
LONDON RAIL INDEX
London Underground
Brompton Road (disused)
Aldwych (disused)
Waterloo & City Line
Underground Pioneer (150 years)
Boston Manor Signal Box
Art Deco on the Underground
West London Branch lines
Staines to West Drayton
Southall to Brentford
West Drayton to Uxbridge
West Ealing to Greenford
Uxbridge High Street to Denham
Other Railway Relics
Slough to Windsor branch line
Maidenhead Boyne Hill station
Feltham Mashalling Yards
Feltham Station
Feltham Cavalry Tunnel
Richmond - old BR posters
Other London photos