Clifton Bridge Samaritans sign


photo archive copy Clifton Suspension Bridge Samaritans Sign Of course with its dramatic location and high drop it has been a regular place for suicides since it opened nearly 150 years ago. In 1884 Sarah Ann Henley survived an attempt to take her own life through a combination of her billowing dress and her good fortune to land in mud.
Nowadays the Samaritans have put up signs on the bridge and barriers along the walkways prevent people climbing over from the central section.
More Bristol photos

To order a hi_res copy of
this photo click here (image reference BRS_CLIFBRID_06)
All photographs copyright artofthestate 2011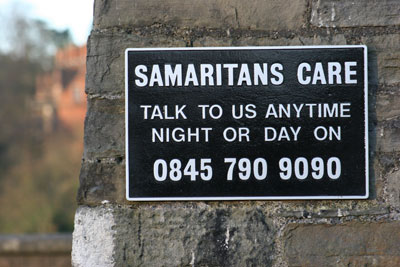 Clifton Suspension Bridge Samaritans Sign
CITIES
Brighton
Bristol LONDON PHOTOS INDEX
London Eye
Dali sculptures
Thames Path
Parks & gardens 1 2
South Bank 1 2 3
City of London 1 2
Canary Wharf 1 2
Paddington Basin
London Architecture 1 2 3 4
Art Deco buildings 1 2
London mainline stations
London motorways and traffic
Statues, sculpture, monuments
Art In London 1
London art galleries
London Museums
London in the snow 2003
London Tourist photos 1 2 3
Text list of London photos
For non London galleries
click here