Ben Eine artist
Ben Eine, Alphabet Street, London Ben Eine's complete new lower case alphabet in Middlesex Street close to Liverpool Street station. It's the result of a years planning and persuading of local shop owners in conjunction with the Electric Blue gallery which neatly enough occupies the space occupied by the letter 'E'.
With each letter taking around an hour to complete it took Ben several visits from his home on the coast to construct the series. Further along the road is the first word comprised of letters painted on shutters.
Speaking to the Observer Ben said "Spraypainting a shop shutter turns an ugly, boring thing into something interesting and colourful. I think you'd have to be a pretty negative person to find fault in it". It's hard to disagree with that _ especially when you see everyone who walked past on the night these photos were taken stop and squeal with delight when they realised what they had unexpectedly walked into.
More photos of work by Ben Eine here 1 and 2:
All photographs copyright artofthestate 2010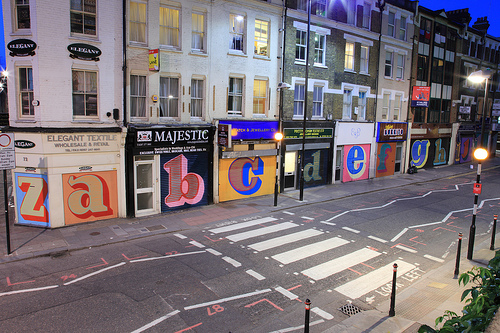 Ben Eine
STREET ART GRAFFITI INDEX Stencil graffiti
London 1 2 3 4 5 6 7 8 9 10 11
Bristol 1 Brighton 1
Spray can graffiti
1 2 3 4 5 6 7
Stickers 1 2
Sculpture / Installs 1
Paste ups 1 2 3
Text graffiti 1 2
other graffiti images 1 2
Graffiti books 1
Graffiti DVD's 1
Featured artists
adam neate /  arofish / banksy / dface / eine  / faile / obey / invader / shok_1 / tlp / toasters / Full list