Dr D Kilroy Silk Woz here
Dr d Kilroy Silk Woz Heir.  The UK Independence Party (UKIP) ran a billboard on the side of the M4 Motorway heading into London from Heathrow with an all too typical and not too subtle message (the subtext of which was 'immigrants spell trouble'). Dr D reworked the poster with a hat trick of messages meshed into one slogan: 'Kilroy_Silk woz heir' Those three words contain a reference to the 'Kilroy Woz Here' World War 2 graffiti, a nod to a much loathed chat show host and a dig at the little England party of UKIP.
Kilroy_silk is currently an Independent Member of the European Parliament. Previously he has been a Labour MP, a member of UKIP, who he left to set up the Veritas party _ which he then left within a year.
Make your mind up Robert, you're getting embarrassing.
All photographs copyright artofthestate 2009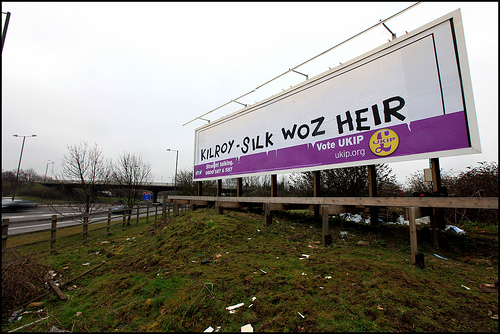 Dr.D 'Kilroy Silk Woz Heir', M4 Motorway billboard hijack
STREET ART GRAFFITI INDEX Stencil graffiti
London 1 2 3 4 5 6 7 8 9 10 11
Bristol 1 Brighton 1
Spray can graffiti
1 2 3 4 5 6 7
Stickers 1 2
Sculpture / Installs 1
Paste ups 1 2 3
Text graffiti 1 2
other graffiti images 1 2
Graffiti books 1
Graffiti DVD's 1
Featured artists
adam neate /  arofish / banksy / dface / eine  / faile / obey / invader / shok_1 / tlp / toasters / Full list