Dr.D at the Brit awards







street art archive copy Dr.D doctored Coldplay poster at the Brit Awards This is a bit special too. This poster was put up directly opposite the Brit Awards ceremony in London in Feb 2006. It was visible to anyone walking out of the front of the event. Dr.D didn't just change the words on the poster (changing the title of the album to 'X&Y bother' and adding in the comment about Fair Trade) _ that's a whole new poster that was pasted up. That's some serious work!
The comments about Fair trade relate to Clear Channels alleged near monopoly on the advertising space in this country and others.
All photographs copyright artofthestate 2005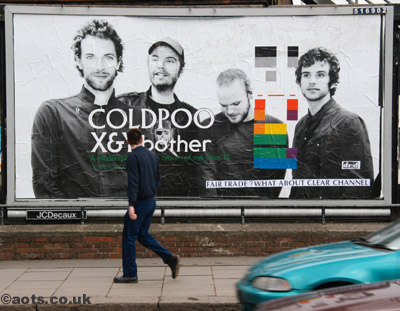 Dr.D at the Brit awards
STREET ART GRAFFITI INDEX Stencil graffiti
London 1 2 3 4 5 6 7 8 9 10 11
Bristol 1 Brighton 1
Spray can graffiti
1 2 3 4 5 6 7
Stickers 1 2
Sculpture / Installs 1
Paste ups 1 2 3
Text graffiti 1 2
other graffiti images 1 2
Graffiti books 1
Graffiti DVD's 1
Featured artists
adam neate / arofish / banksy / dface / eine / faile / obey / invader / shok_1 / tlp / toasters / Full list
Street Art / Graffiti Shows
listings / pictures