Eine graffiti







street art archive copy EINE: Graffiti Alphabet Shutters / Rude Word Search Eine specialises in massive workings of letters across shop fronts. After trudging around Bethnal Green trying to find them all (with a couple of exceptions) I rewarded myself by making this, the Eine rude word search. There's 4 four letter words in there somewhere. OK, ones not all that rude _ my Grandad said it but in my defence my Grandma always tutted.
Be careful if you start taking pictures of Eine's shutters. Lying dormant in each and every one of us is the train spotter gene.
Dave Gorman's excellent Flickr photostream also contains a complete Eine set taken at night
More Eine work on the next page.
All photographs copyright artofthestate 2004/5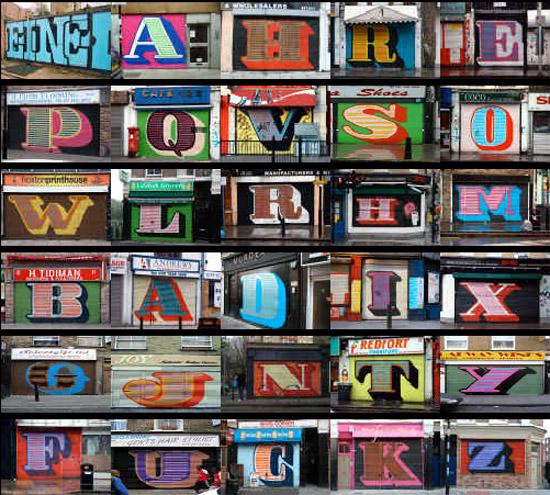 STREET ART GRAFFITI INDEX Stencil graffiti
London 1 2 3 4 5 6 7 8 9 10 11
Bristol 1 Brighton 1
Spray can graffiti
1 2 3 4 5 6 7
Stickers 1 2
Sculpture / Installs 1
Paste ups 1 2 3
Text graffiti 1 2
other graffiti images 1 2
Graffiti books 1
Graffiti DVD's 1
Featured artists
adam neate / arofish / banksy / dface / eine / faile / obey / invader / shok_1 / tlp / toasters / Full list
Street Art / Graffiti Shows
listings / pictures