Bulldog graffiti Old Street







street art archive copy Bulldog graffiti, Old Street I don't know who does these simple and great bulldogs but I've seen a couple round town. This one was in Rivington Street but I've also seen them in Holloway Road and the Underground (I think) too. It's like a throw up without using letters.
This image is also featured briefly in Saint Etienne's Finisterre documentary on London (with thanks to Todd for that information).
All photographs copyright artofthestate 2004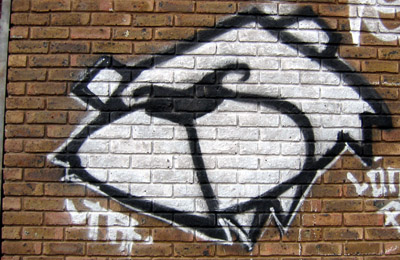 Bulldog graffiti Old Street
STREET ART GRAFFITI INDEX Stencil graffiti
London 1 2 3 4 5 6 7 8 9 10 11
Bristol 1 Brighton 1
Spray can graffiti
1 2 3 4 5 6 7
Stickers 1 2
Sculpture / Installs 1
Paste ups 1 2 3
Text graffiti 1 2
other graffiti images 1 2
Graffiti books 1
Graffiti DVD's 1
Featured artists
adam neate / arofish / banksy / dface / eine / faile / obey / invader / shok_1 / tlp / toasters / Full list
Street Art / Graffiti Shows
listings / pictures