iNeed canvas by Mantis
iNeed stencil on canvas by Mantis This is a canvas version of the stencil on the previous page. It's one of a limited edition of just 5 original canvases of this design by Mantis and is signed on the back. Money raised from the sales of these canvases will be going to support a school feeding project in Southern Africa.  The size of the canvas is 18 by 24 inches and it is on a deep box frame canvas. This image will also be shortly featured on a limited edition print.
SOLD OUT _ on day one of the listing! Thanks to everyone who bought one.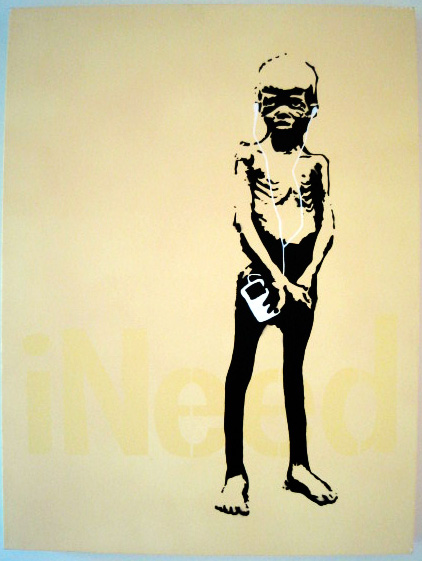 iNeed canvas by Mantis
STREET ART GRAFFITI INDEX Stencil graffiti
London 1 2 3 4 5 6 7 8 9 10 11
Bristol 1 Brighton 1
Spray can graffiti
1 2 3 4 5 6 7
Stickers 1 2
Sculpture / Installs 1
Paste ups 1 2 3
Text graffiti 1 2
other graffiti images 1 2
Graffiti books 1
Graffiti DVD's 1
Featured artists
adam neate /  arofish / banksy / dface / eine  / faile / obey / invader / shok_1 / tlp / toasters / Full list