Jaguar Cars _ Ice Caps melting fast _ With Sting and the Rainforestcomment!







street art archive copy Jaguar Cars graffiti. Found in Farringdon.
Bland pop singer Sting was once famous for his work in trying to save the Amazon rain forest…and then he did an advert promoting Jaguar cars. When he did this he managed to take the term muppet to new, uncharted levels.
All photographs copyright artofthestate 2005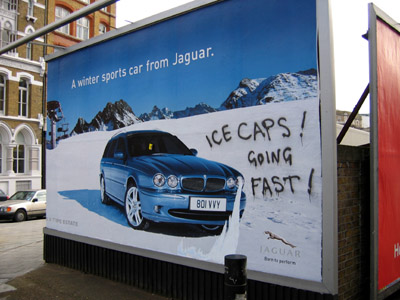 Jaguar Cars graffiti
STREET ART GRAFFITI INDEX Stencil graffiti
London 1 2 3 4 5 6 7 8 9 10 11
Bristol 1 Brighton 1
Spray can graffiti
1 2 3 4 5 6 7
Stickers 1 2
Sculpture / Installs 1
Paste ups 1 2 3
Text graffiti 1 2
other graffiti images 1 2
Graffiti books 1
Graffiti DVD's 1
Featured artists
adam neate / arofish / banksy / dface / eine / faile / obey / invader / shok_1 / tlp / toasters / Full list
Street Art / Graffiti Shows
listings / pictures