It's a Stick_Up: 20 Real Wheat Paste_Ups from the World's Greatest StreetArtists







street art archive copy It's A Stick Up _ 20 Real wheat pastes from the world's greatest street artists. Ollystudio, published by Laurence King ISBN 978_1780671017, 88 pages, large format (35 x 25cm), full colour. Spray painting walls carries its own risks not least of which are criminal records and custodial sentences. Not surprisingly its become quite popular to reduce the chance of a serious criminal damage charge by producing art work in advance and simply pasting it to a wall. Some of the best known names in street art adopt this approach at times or work in it exclusively. 'It's A Stick Up' takes twenty of the best and reproduces some of their most iconic images in large scale, fold out posters in this book.
If you purchase this book you have something of a nice to have dilemma on your hands. Do you keep it all pristine in its original condition? Do you cut out the posters from your favourite artists and frame them on your wall? Or do you have a go at pasting the artwork up in your local town? My copy remains intact but every time I look at it it kind of starts calling to me….
Includes work from 36recyclab, abcnt, a.ce, br1, Dain, Cake, Dale Grimshae, EMA, Feral Child, Hin, Kid Acne, Ludo, Monsieur Qui, Morley, Pablo Delgado, Paul Insect, Pure Evil, SHN, Specter, WK Interact.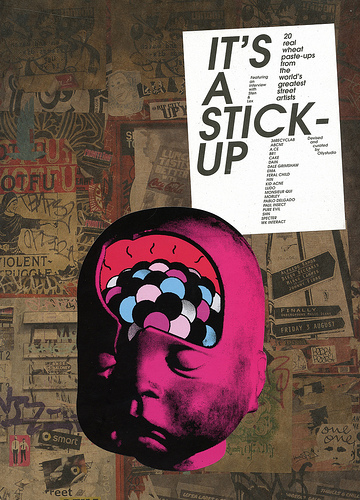 It's A Stick Up book, from Ollystudio
STREET ART GRAFFITI INDEX Stencil graffiti
London 1 2 3 4 5 6 7 8 9 10 11
Bristol 1 Brighton 1
Spray can graffiti
1 2 3 4 5 6 7
Stickers 1 2
Sculpture / Installs 1
Paste ups 1 2 3
Text graffiti 1 2
other graffiti images 1 2
Graffiti books 1
Graffiti DVD's 1
Featured artists
adam neate / arofish / banksy / dface / eine / faile / obey / invader / shok_1 / tlp / toasters / Full list
Street Art / Graffiti Shows
listings / pictures