Lovepusher Remember Jesus







street art archive copy Lovepusher _ Remember Jesus graffiti, Alexandra Palace Another one of Lovepusher's 'Remember Jesus' pieces _ this time on the legal skate park wall next to Alexandra Palace. The letter forms are stunning (as always).
"When the light comes the darkness goes away".
The Times interviewed Lovepusher back in 2008, here's an excerpt:
"My work is no longer about me. The work is now a message, not only Christians but for people of all faiths and all walks of life. My faith definitely played a big part in my transition from traditional artist to my current status. In 2003 God saved and changed my life for the better. What I do now is my own personal thank you to God".
All photographs copyright artofthestate 2009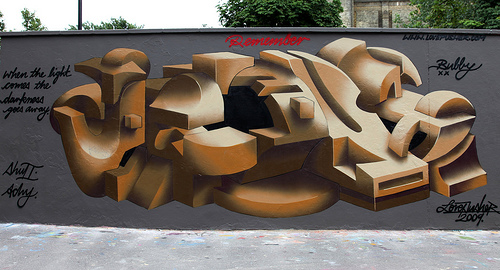 Lovepusher Remember Jesus, Alexandra Palace
STREET ART GRAFFITI INDEX Stencil graffiti
London 1 2 3 4 5 6 7 8 9 10 11
Bristol 1 Brighton 1
Spray can graffiti
1 2 3 4 5 6 7
Stickers 1 2
Sculpture / Installs 1
Paste ups 1 2 3
Text graffiti 1 2
other graffiti images 1 2
Graffiti books 1
Graffiti DVD's 1
Featured artists
adam neate / arofish / banksy / dface / eine / faile / obey / invader / shok_1 / tlp / toasters / Full list
Street Art / Graffiti Shows
listings / pictures