Obey Nineteeneightyfouria London 2007







street art archive copy Obey / Shepard Fairey Nineteeneightyfouria Exhibition London 2007 at stolenspace. GALLERY SHOW Obey (Shepard Fairey) has his first solo exhibition in London at stolenspace (Old Truman Brewery, 91 Brick Lane) from the 2nd to the 18th November 2007.
STREET WORK Paste ups from across London in advance of the show opening.
INTERVIEW Shepard interviewed before the opening of the show
All photographs copyright artofthestate 2007
All photographs copyright artofthestate 2007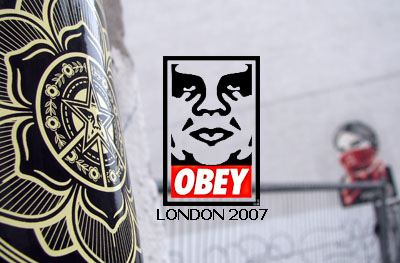 Obey Nineteeneightyfouria exhibition, London, November 2007
STREET ART GRAFFITI INDEX Stencil graffiti
London 1 2 3 4 5 6 7 8 9 10 11
Bristol 1 Brighton 1
Spray can graffiti
1 2 3 4 5 6 7
Stickers 1 2
Sculpture / Installs 1
Paste ups 1 2 3
Text graffiti 1 2
other graffiti images 1 2
Graffiti books 1
Graffiti DVD's 1
Featured artists
adam neate / arofish / banksy / dface / eine / faile / obey / invader / shok_1 / tlp / toasters / Full list
Street Art / Graffiti Shows
listings / pictures