Outside Institute







street art archive copy Outside Institute, Paddington, London Now when anyone asks me the best place to see graffiti in London I can recommend this gallery opened in March 2005. It will make a nice change from the usual response of 'go to xxx (the dodgiest part of town), clamber over this wall, climb through this fence…etc'.
Oh, and when you go don't forget to take your pens to sign the guestbook as Outside Institute founder Dface has done here.
2006 Update _ the Institute is sadly closed but the guys involved are now running stolenspace over in the East End.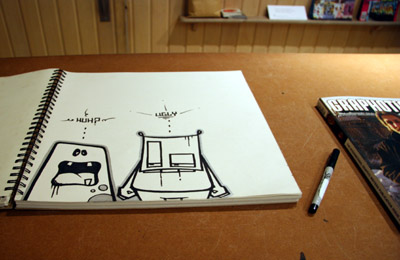 Outside Institute
STREET ART GRAFFITI INDEX Stencil graffiti
London 1 2 3 4 5 6 7 8 9 10 11
Bristol 1 Brighton 1
Spray can graffiti
1 2 3 4 5 6 7
Stickers 1 2
Sculpture / Installs 1
Paste ups 1 2 3
Text graffiti 1 2
other graffiti images 1 2
Graffiti books 1
Graffiti DVD's 1
Featured artists
adam neate / arofish / banksy / dface / eine / faile / obey / invader / shok_1 / tlp / toasters / Full list
Street Art / Graffiti Shows
listings / pictures