Outsiders _ Art By People Book _ Steve Lazarides







street art archive copy Outsiders, Art By People _ Steve Lazrides (Century, 264 pages) Steve Lazarides, the compiler behind this book and the man behind the Lazarides gallery takes a simple approach when selecting artists. Quite simply he asks the question "Do we like the work"? Ideas such as "has this person got the prerequisite qualifications" are tossed aside along with convention to arrive at an eclectic mix of different artists under the loose banner of 'Outsiders'. Despite claiming to hate genre's it seems Lazarides has accidentally created a new one _ just a few weeks after the publication of this book Ebay have already added a category of 'outsider art'. A definition of the term is harder to come by _ there's a huge variety of methods and backgrounds behind the work in this book and I guess that is the point. From the French photographer JR we see the favela's staring out at us with the eyes of their inhabitants pasted on the sides of their impenetrable buildings. Gee Vaucher, stalwart of legendary anarcho punks Crass, gives us bombers intermingled with a scene that would have delighted ornithologist Peter Scott whilst Polly Morgan's taxidermy of small animals into sleeping creatures would have horrified him. Invader's tiled retro video game icons and rubiks cube portraits mix it up with Portugal's Vhils and his innovative chiseled, ripped up and bleached graffiti. It should be a complete jumble sale of ideas _ yet somehow it all works and makes sense as a a whole and provides probably the freshest collection of art you will have seen in the past 10 years.
Featuring work by 3D, Blu, Kelsey Brooks, David Choe, Miranda Donovan,Stanley Donwood, Faile, Ian Francis, Conor Harrington, Jamie Hewlett, Paul Insect, Invader, JR, Todd James, Mark Jenkins, Lucy McLauchlan, Antony Micallef, Mode 2, Polly Morgan, Ben Turnbull, Gee Vaucher, Sage Vaughn, Vhils, Jonathan Yeo and Zevs.
ISBN 1846055466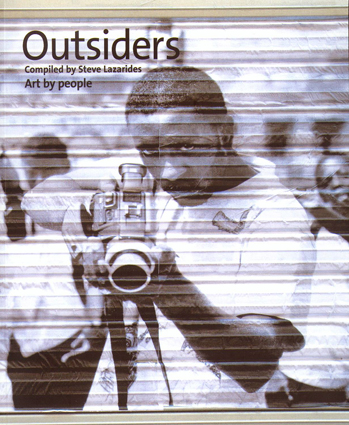 Outsiders, Art By People _ Steve Lazarides
STREET ART GRAFFITI INDEX Stencil graffiti
London 1 2 3 4 5 6 7 8 9 10 11
Bristol 1 Brighton 1
Spray can graffiti
1 2 3 4 5 6 7
Stickers 1 2
Sculpture / Installs 1
Paste ups 1 2 3
Text graffiti 1 2
other graffiti images 1 2
Graffiti books 1
Graffiti DVD's 1
Featured artists
adam neate / arofish / banksy / dface / eine / faile / obey / invader / shok_1 / tlp / toasters / Full list
Street Art / Graffiti Shows
listings / pictures