Pictures of Walls graffiti book







street art archive copy Pictures of Walls graffiti book Eighty pages of graffiti from around the world, much of it witty or desperate scrawling on city walls. Each picture fills an entire A5 page and ranges from simply plastering 'lies' over a news stand to reworking cracked plaster patterns to make dogs, monsters and entire continents. The book will take you just a few minutes to read but you'll find yourself reaching for it many times more because it will remind you that despite all evidence to the contrary there are people out there that think just like you.
Available from picturesonwalls.com for 5 pounds plus postage.
Compiled by Banksy / POW / ISBN 0_9551946_0_1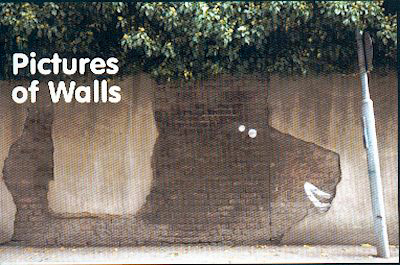 Pictures of Walls graffiti book
STREET ART GRAFFITI INDEX Stencil graffiti
London 1 2 3 4 5 6 7 8 9 10 11
Bristol 1 Brighton 1
Spray can graffiti
1 2 3 4 5 6 7
Stickers 1 2
Sculpture / Installs 1
Paste ups 1 2 3
Text graffiti 1 2
other graffiti images 1 2
Graffiti books 1
Graffiti DVD's 1
Featured artists
adam neate / arofish / banksy / dface / eine / faile / obey / invader / shok_1 / tlp / toasters / Full list
Street Art / Graffiti Shows
listings / pictures