Stencil Nation: Graffiti, Community and Art book by Russell Howze







street art archive copy Stencil Nation: Graffiti, Community and Art _ Russell Howze (Manic D Press, 192 pages) First things first _ this book is so rammed with images they virtually spill out of the pages. There's no coffee table white space look about this volume and that's no surprise as author Russell Howze runs the stencilarchive.org website and has a lot of stuff to get through.
It all starts off with the origins of stencil graffiti before racing through a dozen or so stencil artists (including Arofish and Banksy from the UK) then takes us on to galleries and 'documentarians' before returning to city streets around the globe. Of particular use are the sections at the back of the book which contain tips and tricks on making stencils _ and avoiding getting caught! Essential reading.
ISBN 1933149221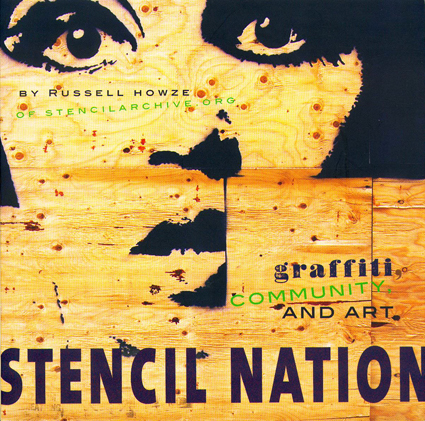 Stencil Nation _ Russell Howze
STREET ART GRAFFITI INDEX Stencil graffiti
London 1 2 3 4 5 6 7 8 9 10 11
Bristol 1 Brighton 1
Spray can graffiti
1 2 3 4 5 6 7
Stickers 1 2
Sculpture / Installs 1
Paste ups 1 2 3
Text graffiti 1 2
other graffiti images 1 2
Graffiti books 1
Graffiti DVD's 1
Featured artists
adam neate / arofish / banksy / dface / eine / faile / obey / invader / shok_1 / tlp / toasters / Full list
Street Art / Graffiti Shows
listings / pictures