The Art of Rebellion graffiti book







street art archive copy The art of rebellion graffiti book A lovingly researched run though what is generally referred to as the street art scene featuring many of it's finest proponents in 2004/5. Each artist has been contacted with a request made for examples of their work and to supply some basic facts about themselves. The results make 200 pages of colourful, inspiring reading. It's a well laid out book, packed full with great images from each artist and includes many whose work has also been captured on this very website. Author C100 understands the dangers of releasing a book like this but has negotiated them well. A second installment is in the pipeline already but this original volume comes highly recommended.
Written by C100 / Gingko Press / ISBN 1_58423_209_9.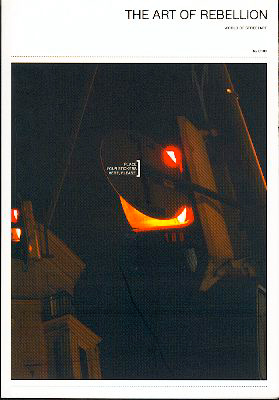 The Art of Rebellion graffiti book
STREET ART GRAFFITI INDEX Stencil graffiti
London 1 2 3 4 5 6 7 8 9 10 11
Bristol 1 Brighton 1
Spray can graffiti
1 2 3 4 5 6 7
Stickers 1 2
Sculpture / Installs 1
Paste ups 1 2 3
Text graffiti 1 2
other graffiti images 1 2
Graffiti books 1
Graffiti DVD's 1
Featured artists
adam neate / arofish / banksy / dface / eine / faile / obey / invader / shok_1 / tlp / toasters / Full list
Street Art / Graffiti Shows
listings / pictures