Urban Guerilla Protest book by Ake Rudolf







street art archive copy Urban Guerilla Protest _ Ake Rudolf (Mark Batty Publishing) Before computers, inkjet and laser printers made things easier protest was put together in a hundred thousand bedrooms painstakingly in letraset, cut out on boards, stuck down with Pritt stick and reproduced on 'borrowed' photocopier time. This book goes back to those mixed media roots and is all the better for it.
Simultaneously translated into English and German over 90 ideas are presented for projecting messages into everyday life. From well known methods such as billboard liberation to a fake Republican tour bus supporting George Bush in '04 (complete with a gas pumping cowboy, Saudi Prince and an orangutan) there's a mass of ideas revealed.
Inspirational in its DIY ethic there's something in this book that each and everyone of us can do to put the brakes on blind acceptance of what we think is wrong.
ISBN 978_0_9790486_9_2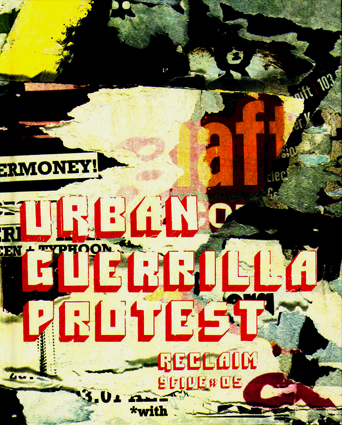 Urban Guerilla Protest _ Ake Rudolf
STREET ART GRAFFITI INDEX Stencil graffiti
London 1 2 3 4 5 6 7 8 9 10 11
Bristol 1 Brighton 1
Spray can graffiti
1 2 3 4 5 6 7
Stickers 1 2
Sculpture / Installs 1
Paste ups 1 2 3
Text graffiti 1 2
other graffiti images 1 2
Graffiti books 1
Graffiti DVD's 1
Featured artists
adam neate / arofish / banksy / dface / eine / faile / obey / invader / shok_1 / tlp / toasters / Full list
Street Art / Graffiti Shows
listings / pictures