Wild Style DVD







street art archive copy Wild Style DVD, including Fab Five Freddy, Grandmaster Flash, Rock Steady Crew and Cold Crush Brothers. ASIN B000TR6B9S, directors commentary and cast interviews.
Wild Style was never going to win the Oscar for best screenplay, acting or special effects but that was not the point of this important film. What you get here is a more grass roots movie, which uses people that actually lived and breathed for real the roles they play. So if you see a graffiti writer then that person was in real life a graffiti writer, the same for the DJ's and B_boys who feature throughout this film. It's not fast paced but then this more accurately depicts real life as it is, life isn't all like Keanu in Speed. Many complain when a sub_culture gets picked up by the mainstream and gets turned into a movie that all meaning is lost. This is where this film scores highest because it retained the respect of the hip hop community and the people it represents by accurately depicting the realities of what went on at the time. So if that includes drinking beer and taking a leak in a train yard while others are hitting up that's what you get to see.
The past, they say, is a different country and it certainly seems like it here as this was made way back in '83. Watching this film will transport the viewer back to a time when the hip_hop scene was fresh and vibrant and tells the story of when kids in rough neighbourhoods met up with the Manhattan art elite. There are some great quotes in there too (many of which have turned up on records). There are also many parallels with today's street art scene, as it becomes more publicly known and the money players, galleries and corporation's move in. Maybe it's not as dated as the fashions suggest…the message remains bang on the button.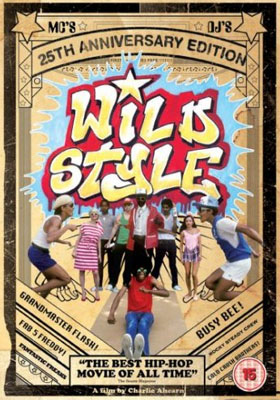 Wild Style DVD
STREET ART GRAFFITI INDEX Stencil graffiti
London 1 2 3 4 5 6 7 8 9 10 11
Bristol 1 Brighton 1
Spray can graffiti
1 2 3 4 5 6 7
Stickers 1 2
Sculpture / Installs 1
Paste ups 1 2 3
Text graffiti 1 2
other graffiti images 1 2
Graffiti books 1
Graffiti DVD's 1
Featured artists
adam neate / arofish / banksy / dface / eine / faile / obey / invader / shok_1 / tlp / toasters / Full list
Street Art / Graffiti Shows
listings / pictures