Brick Lane Brick Lane Brick Lane's name dates back to the 16th century when earth was dug from the adjacent fields to make bricks. There's now no evidence of this past remaining save for the name itself.
It's long been an area synonymous with immigration. First were the Huguenots from France who established silk weaving in the area followed by Jewish immigrants escaping from anti_semitism in Eastern Europe. It had a well deserved rough reputation at this time _ Jack the Ripper operated nearby and the poverty was appalling. Over time it became an area for entrepreneurs and famous for the rag trade.
After the partition of India in 1947 large numbers of predominantly Bangladeshis arrived in the area and took up the sewing related industries left behind by its previous inhabitants. At one point more than 40,000 Bangladeshis called the area their home. When the rag trade died a death it was in part replaced by numerous curry houses (now totaling nearly fifty) starting with the Clifton in 1974. Over time these restaurants have become less about serving the local community and more about serving those from outside of the area.
The area has seen some unusual transitions _ the Fournier Street synagogue (previously used by other faiths as a church) switched to become the Brick Lane Mosque. And in recent times the area has seen an influx of artists and galleries in a new twist to its fortunes.

To order a hi_resolution copy of this photo click here (image reference LDN_BRICKLAN_1)
All photographs copyright artofthestate 2014 (adsbygoogle = window.adsbygoogle || []).push({});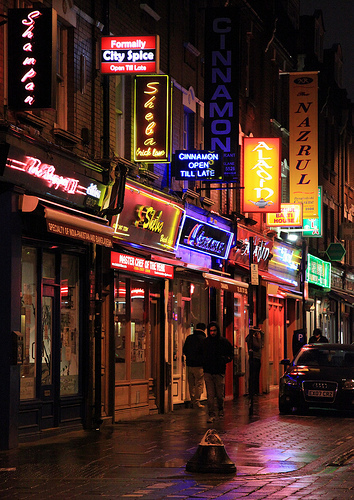 Brick Lane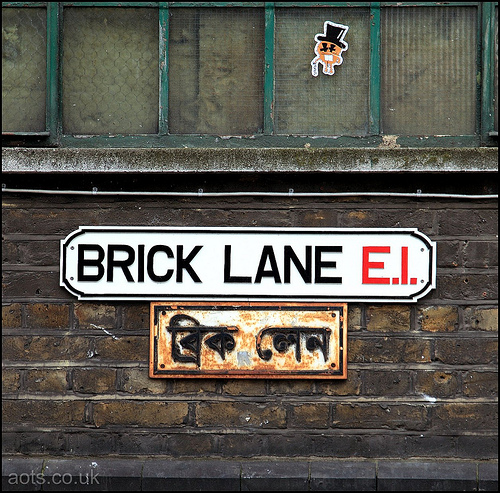 Brick Lane sign
London architecture 1 2 3 4
London art deco buildings 1 2 3 4
London art galleries
London bridges
London Canary Wharf 1 2
London churches and cathedrals
London _ the City 1 2 3
London Dali Universe 1
London Eye
London Heathrow Airport
London parks & gardens 1 2
London Paddington Basin
London statues, monuments
London motorways and traffic
London museums
London at night
London public art 1
London seasonal celebrations
London snow
London South Bank 1 2 3
London sport stadiums
London stations
London street art
London suburbs 1
London Thames Path
London theatres
London Tourist photos 1 2 3
London transport 1 2
Text list of London photos For non London galleries
click here