Charing Cross Station Charing Cross Station, London Charing Cross Station, postcode WC2 5HS, operated by Network Rail. Charing Cross is in effect a station that allows customers traveling to London Bridge to progress a little bit further into the heart of London and arrive on the North Bank of the Thames. Between the two stations lies Waterloo East so in effect three large London stations are linked in short order.
The station was originally constructed for the South East and Chatham Railway (SECR) which later became the South Eastern Railway. It opened in 1864 with the Charing Cross Hotel itself opening in 1865. In the stations forecourt is the Eleanor Cross _ the point at which all distances to the centre of London are measured.
Charing Cross station is served by two London Underground lines _ the Bakerloo and Northern lines.

To order a hi_resolution copy of this photo click here (image reference LDN_CHARCROS_1)
All photographs copyright artofthestate 2014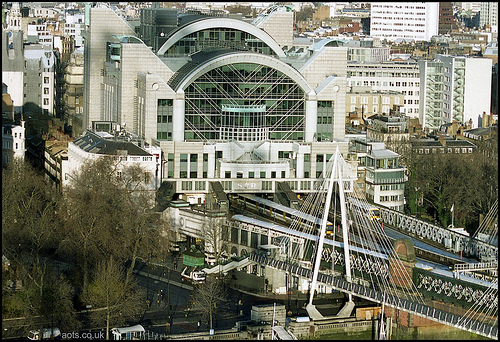 Charing Cross Station, London
London architecture 1 2 3 4
London art deco buildings 1 2 3 4
London art galleries
London bridges
London Canary Wharf 1 2
London churches and cathedrals
London _ the City 1 2 3
London Dali Universe 1
London Eye
London Heathrow Airport
London parks & gardens 1 2
London Paddington Basin
London statues, monuments
London motorways and traffic
London museums
London at night
London public art 1
London seasonal celebrations
London snow
London South Bank 1 2 3
London sport stadiums
London stations
London street art
London suburbs 1
London Thames Path
London theatres
London Tourist photos 1 2 3
London transport 1 2
Text list of London photos For non London galleries
click here