Covent Garden photo Covent Garden Today Covent Garden is a major draw for any tourist visiting London but at one time it was the most famous fruit and vegetable market in the world with 4000 tonnes of produce passing through it every day.
The market itself started out in the 13th century with the Duke Of Bedford developing it into London's first formally laid out open square in 1630. The central building it is so famous for now did not appear until 1830. It carried on as a market until the 1960's when traffic congestion became such a problem that a new location further South had to be found.
Developers were keen to flatten the market buildings as they had done with the Euston Arch and the Coal Exchange along with countless other buildings in London but these demolitions had enraged people to the extent that they were now organising to save key buildings from destruction. Originally the Greater London Council had planned to demolish three quarters of the buildings _ in part to add in new road capacity. The fight back started in 1971 with a massive campaign utilising diverse tactics from music to protest marches to attacking the then Prime Minister Edward Heath. It led to the resignation of the GLC's chief public proponent of the flattening scheme, Lady Dartmouth, as she felt she could no longer support it. The GLC's plans were truly thwarted when 250 of areas buildings were given protection via being given 'listed' status by Secretary of State Geoffrey Rippon in 1973.
In 1974 the market ceased trading but it was not until 1978 that it was decided to convert it into a shopping centre which opened in 1980. Whilst the buildings may have been saved the community that had existed there was lost forever.

To order a hi_resolution copy of this photo click here (image reference LDN_COVGARDN_1)
All photographs copyright artofthestate 2012 / 2014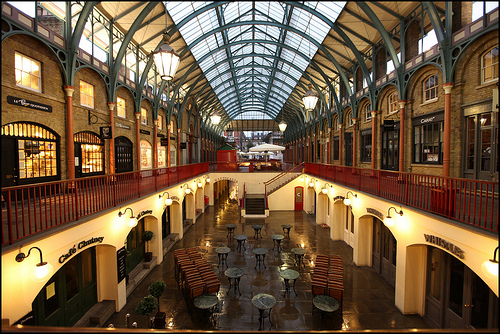 Covent Garden
London architecture 1 2 3 4
London art deco buildings 1 2 3 4
London art galleries
London bridges
London Canary Wharf 1 2
London churches and cathedrals
London _ the City 1 2 3
London Dali Universe 1
London Eye
London Heathrow Airport
London parks & gardens 1 2
London Paddington Basin
London statues, monuments
London motorways and traffic
London museums
London at night
London public art 1
London seasonal celebrations
London snow
London South Bank 1 2 3
London sport stadiums
London stations
London street art
London suburbs 1
London Thames Path
London theatres
London Tourist photos 1 2 3
London transport 1 2
Text list of London photos For non London galleries
click here