London Overground first train London Overground _ the first train The first London Overground train to run on the line at Shoreditch High Street station in April 2010.
Initial services on this part of the London Overground ran from Dalston Junction through to New Cross and New Cross Gate. In 2011 trains will reach further North to Highbury and Islington.
Part of the new line was previously in use as the East London Line. Major improvements include brand new air conditioned trains which are far more accessible to disabled passengers.

To order a hi_resolution copy of this photo click here (image reference LDN_LDNOVER_3)
All photographs copyright artofthestate 2010 / 2014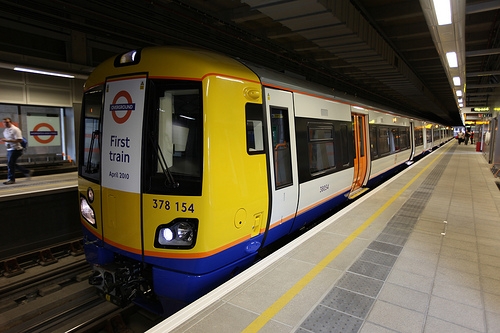 London Overground's first train
London architecture 1 2 3 4
London art deco buildings 1 2 3 4
London art galleries
London bridges
London Canary Wharf 1 2
London churches and cathedrals
London _ the City 1 2 3
London Dali Universe 1
London Eye
London Heathrow Airport
London parks & gardens 1 2
London Paddington Basin
London statues, monuments
London motorways and traffic
London museums
London at night
London public art 1
London seasonal celebrations
London snow
London South Bank 1 2 3
London sport stadiums
London stations
London street art
London suburbs 1
London Thames Path
London theatres
London Tourist photos 1 2 3
London transport 1 2
Text list of London photos For non London galleries
click here