Minimax art deco style factory entrance, Feltham West London Minimax Factory, Feltham, West London (art deco style). This entrance propped up by steel supports is all that is left of the former art deco style Minimax factory in Feltham, West London. It now sits forlornly in front of an anonymous business park at the side of a red route junction. It can only hint at what kind of impressive building was there before. While I was taking this picture a pensioner came past and told me how the whole factory was ripped down over one weekend, in her view to avoid it being preserved. Her anger at the loss of such a building was still evident despite decades having passed.
You can find out about the fight to preserve art deco buildings in the UK by visiting c20society.org.uk
There is also a great small book detailing many art deco buildings in London, more details here.

To order a hi_resolution copy of this photo click here (image reference LDN_MINIMAX_2)
All photographs copyright artofthestate 2014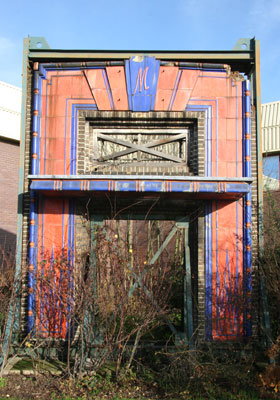 Minimax art deco style factory entrance, Feltham West London
London architecture 1 2 3 4
London art deco buildings 1 2 3 4
London art galleries
London bridges
London Canary Wharf 1 2
London churches and cathedrals
London _ the City 1 2 3
London Dali Universe 1
London Eye
London Heathrow Airport
London parks & gardens 1 2
London Paddington Basin
London statues, monuments
London motorways and traffic
London museums
London at night
London public art 1
London seasonal celebrations
London snow
London South Bank 1 2 3
London sport stadiums
London stations
London street art
London suburbs 1
London Thames Path
London theatres
London Tourist photos 1 2 3
London transport 1 2
Text list of London photos For non London galleries
click here