Minimax Factory, art deco style factory in Feltham West London Minimax Factory, Feltham, West London (art deco style). Close up of the Minimax 'M' atop the preserved entrance. The Minimax Factory was built in 1911 and was demolished during the 1980's.
The location of the factory on the corner of Faggs Road and Staines Road became in its day a famous landmark known as Minimax Corner.
Minimax Limited was taken over by The Pyrene Company in 1955.
Chubb & Sons took over Pyrene in 1967.
Minimax and Pyrene continued to trade under their own names until 1971 when Chubb Fire Security Limited was formed.
(with thanks to James for the info).

To order a hi_resolution copy of this photo click here (image reference LDN_MINIMAX_1)
All photographs copyright artofthestate 2014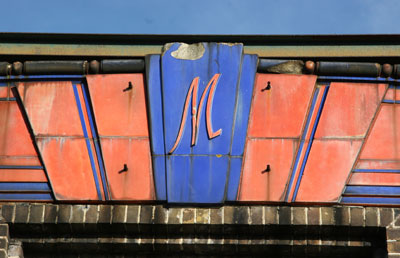 Minimax Factory, art deco style factory in Feltham West London
London architecture 1 2 3 4
London art deco buildings 1 2 3 4
London art galleries
London bridges
London Canary Wharf 1 2
London churches and cathedrals
London _ the City 1 2 3
London Dali Universe 1
London Eye
London Heathrow Airport
London parks & gardens 1 2
London Paddington Basin
London statues, monuments
London motorways and traffic
London museums
London at night
London public art 1
London seasonal celebrations
London snow
London South Bank 1 2 3
London sport stadiums
London stations
London street art
London suburbs 1
London Thames Path
London theatres
London Tourist photos 1 2 3
London transport 1 2
Text list of London photos For non London galleries
click here