Victoria Station, London Victoria Station, London Victoria Station, postcode SW1V IJU operated by Network Rail. There were two distinct lines running into this area before the unification of these led to the creation of Victoria station in 1924. Prior to this time both the London Brighton South Coast Railway (LBSCR) and the London Chatham and Dover Railway (later South East and Chatham Railway, or SECR) ran services starting in 1860 and 1862 respectively.
Victoria station is home to at least two famous services _ the Gatwick Express to the airport of the same name and as a starting point for many Venice Simplon Orient Express trains to famous English landmarks.
Connections to the Underground are available via the District and Circle lines and, of course, the Victoria Line.

To order a hi_resolution copy of this photo click here (image reference LDN_VICSTALN_1)
All photographs copyright artofthestate 2012 / 2014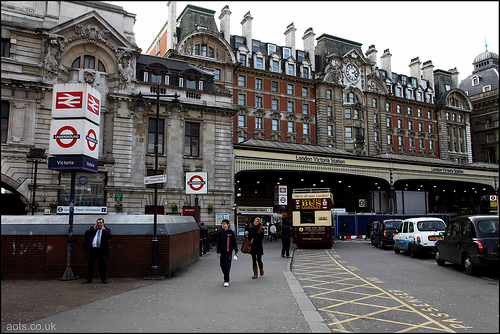 Victoria Station, London
London architecture 1 2 3 4
London art deco buildings 1 2 3 4
London art galleries
London bridges
London Canary Wharf 1 2
London churches and cathedrals
London _ the City 1 2 3
London Dali Universe 1
London Eye
London Heathrow Airport
London parks & gardens 1 2
London Paddington Basin
London statues, monuments
London motorways and traffic
London museums
London at night
London public art 1
London seasonal celebrations
London snow
London South Bank 1 2 3
London sport stadiums
London stations
London street art
London suburbs 1
London Thames Path
London theatres
London Tourist photos 1 2 3
London transport 1 2
Text list of London photos For non London galleries
click here