Slough to Windsor and Eton branch line Slough to Windsor _ GWR West London Branch line While the Great Western Mainline bypassed Windsor a connecting rail line from Slough was opened in October 1849. It was used by Queen Victoria on occasion who would leave the town on special trains on her way to other parts of the country. Windsor Station originally had five platforms but is now down to just one. A royal waiting room has now been incorporated into a small exhibition area which includes a locomotive appropriately named 'The Queen'. The rest of the former station now appears to be an up market shopping area aimed at the tourists who come to the area all year round. At one point there was a halt on the 2.75 miles of track between Windsor and Slough. Chalvey existed from the 6th May 1929 to the 7th July 1930. As far as I know no trace of this station remains.
All photographs copyright artofthestate 2012 / 2013

To order a hi_resolution copy of any of these photos click here (image reference LDN_SLOUWIET_1_4) and state image description.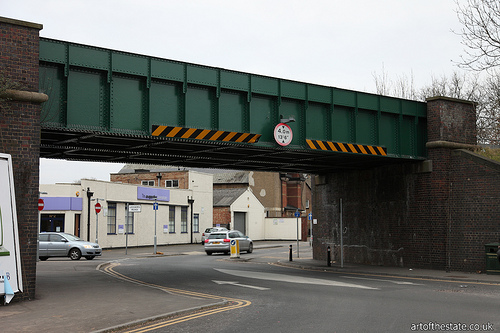 The site of the former Chalvey Halt Station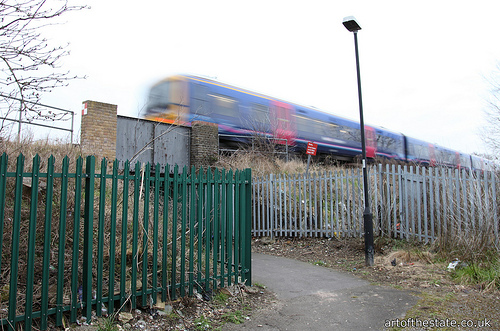 A new Chalvey station has been proposed in nearby space
Slough to Windsor branch line _ near the Windsor terminus
The Queen _ steam engine at Windsor Station
London Underground
Brompton Road (disused)
Aldwych (disused)
Waterloo & City Line
Underground Pioneer (150 years)
Boston Manor Signal Box
Art Deco on the Underground West London Branch lines
Staines to West Drayton
Southall to Brentford
West Drayton to Uxbridge
West Ealing to Greenford
Uxbridge High Street to Denham
Other Railway Relics
Slough to Windsor branch line
Maidenhead Boyne Hill station
Feltham Mashalling Yards
Feltham Station
Feltham Cavalry Tunnel
Richmond _ old BR posters
Other London photos