Decadence With European tour Soul Wound Ledbury Slug Joesy Mobs Rid

icons DECADENCE WITHIN TOUR DIARY UK Resist home DECADENCE WITHIN EUROPEAN TOUR DIARY _A UK Resist special investigation. We asked Steve Crisispoint to write up something on the life of the open road, constant touring, groupies, drugs and booze and the flogging of tired old merchandise to unsuspecting punkers. Instead he came up with this, a rather tired old account of life on the road with Ledbury's finest (as in the only ones we've ever heard of) Decadence Within.

Singer Rid supplements his meager Decadence Within wages by doing the "before" pictures for Clearasil ads.
06.45, Saturday and it's a cool morning in April. I'm standing on the hard shoulder of the M25 waiting (hoping) for a transit van to pick me up. In the words of Henry Rollins "What am I doing here"? I can explain, at least I think I can….
I always thought it would be a good crack to go on a jolly round Europe with a band and had previously mentioned this to a few people. Then, out of the blue, I get a phone call asking me if I want to get all European with Decadence Within. Not one to look a gift horse in the mouth I sent my ferry fare off sharpish, signed on the dotted line and packed my bags. Sure, I know they claim to be a straightedge band ("don't drink, don't smoke _ what do you do") but I'm sure they wouldn't turn down a beer. I mean, people are only straightedge part time, aren't they?
So here I am at Junction 9 watching the wheels go by. You would not believe the number of transit vans that go past and I'm starting to wonder if I should get in the next one that comes along and if it's full of channel tunnel workers so be it. As it happens the next one that comes along is the "Deccie boys" tour bus (i.e. a transit van with no seats). Hot in pursuit (as in overheating not speeding) is a Toyota of the vintage that you know is just waiting to get to the other side of the channel before breaking down, where an old Belgian car mechanic will come and look at it and shake his head with a look that says you need a priest, not a mechanic.
The people in the car and the van had to get up even earlier than me and so just an hour down the road we stop at a Little Chef for breakfast and start on a week long orgy of havoc by accidentally knocking over a teapot! "Oh, I'm sorry". Apologising? Hell man, I thought this was a punk rock tour! Concerned, I decide to get talking to the only member of the band I really know _ Slug the bass player.
"So what do you think of Bad Brains. Oh yeah Conflict; I always thought "Icons of Filth" were better.
All we have in common is music but that's more than enough to get a conversation started. I'm the only real Southerner, Nick is from Leeds and there's Lee from Rubicon distro (was that a namedrop, no I didn't think so either) and a few friends from Cheltenham as well. Decadence Within and Neil and "Diamond" Dave (so named because of his striking resemblance to David Lee Roth so I'm told), and his girlfriend come from round Ledbury / Tewkesbury. And there's Matthew from Wales too.
We get to Dover, no one seems to notice that the White Cliffs are now green as they've put a large sea wall in front of them and now they are covered in bushes. We get on the ferry and here we go "Brits on the piss"! Wait a minute though. This band really DOESN'T drink! They're violating rule one in the rock'n'roll rulebook and we haven't even left Blighty yet. Anyway, some of the other people on the ferry have drunk far too much already and we only narrowly miss an altercation with some rugby players from Merthyr Tydfil.
Ferries are like time warps. You get on them for four hours to cross 30 miles of water and the whole thing seems to last a week. Four hours will never seem so long. The band is due to go on stage at four in the afternoon in Aalst (an hours drive from Ostend) and as we come into port it's already half past four. Things are not looking good. Kurt the promoter is waiting for us and by this time he's had more than enough kittens to enable a vet to retire on the back of the neutering fees. We drive off to the gig at full speed on the right hand side of the road _ I'm grateful someone knows what they are doing.
SUBTERRANEAN KIDS from Spain and DIRECT HIT from Norway are down to play and both bands turn in fine sets as do Decadence Within but somehow the whole thing doesn't seem real. And then there's the best part, you get food and drink at continental gigs. We tuck into platefuls of veggie nosh upstairs while a band we can only just make out through the floorboards are playing away. I stroll casually downstairs to fin I've been missing PULLERMANN from Germany. I didn't know they were playing but luckily I still caught the last half hour. I saw this band in Brighton last year and they rocked but this time round they're nothing short of amazing. Bad Brains meets Civilised Society and all your favourite bands in a multiple pile up. Track down some vinyl by this lot and you won't be disappointed. What a gig, four bands from four countries and about four quid to get in! We have a long chat with Direct Hit and then it's off to find somewhere to crash. Some sleep in the van and the rest of us crash out in Kurt's flat and try to get some sleep….
Sunday morning and we're off to Holland for the second gig. This time we're going to Leiden for a gig with MOG who have a song with the intriguing title of "Quasimodo, the flying dodo". Their name comes from some obscure tribe who used to live in Holland and judging by MOG's unusual dress style they're probably blood related. I kid you not. More great vegetarian food and we start to notice a pattern. On the wall outside is written DR & THE CRIPPENS, this was also written in Aalst yesterday and we start to get the feeling we could be following in somebody else's footsteps. Not a huge crowd tonight but our stall does OK and the punters certainly got into it. While MOG are on we walk into the back stage room to find the two kids promoting the show, spraying the whole place with paint. "Err, like, won't the owners be a touch mad when they see all this" they grin and say "Oh yes, they'll be mad, but that's part of the fun" and hand us all a spray can or marker. Soon the walls are covered in graffiti. And I thought only the ROLLING STONES did this sort of stuff!
We go to sleep in the hall as the backstage area stinks too much of spray paint. The morning sees a battle for the solitary shower, which I lose.
We set off back to Belgium for a gig with a band called "CHAOS PUNX" whose set seems to consist mainly of the singer throwing a wobbly while the rest of the band put their instruments out of tune. We try to nod our heads in time, keeping to the hardcore rule that you must try and like any old crap as long as they're punk. Joey, the guitarist from DECADENCE WITHIN is just about to go up there to say "OK lads, we all like a laugh but…." when their set comes to a halt. Decadence play and the crowd throw themselves around in a strange version of the pogo but it's all good_natured and I indulge in the bar with the other drinkers on the tour. Diamond Dave drinks so much I swear he'll be over the limit to drive for the remainder of the tour. We sleep upstairs in the venue tonight and what a crash it is. There's even a bar upstairs with food and so we go to sleep contented. Things are going well!
Daylight and we're off again. Technically we have no gig today but some frantic phone calls see us on our way to Duisberg in Germany to try and persuade the promoters of a SUBTERRANEAN KIDS and PULLERMANN gig taking place there that they want to put us on. They swallow it and we go into town for a while before the gig starts. Some of us go for a pizza, which was delicious and then check out the local record shop. For only the second time in my life I see SKREWDRIVER records openly on sale. It's not the fact that the shop don't know what racist filth they are selling _ they've grouped all the Fascist bands like Skrewdriver together in one place and put them on a wall rack. Most of the records are on "Rock o Rama", a German label obviously worth avoiding. Anyway, it's back to the gig.
This time round I make sure I catch all of Pullermanns set and brilliant it is too. We have a good chat with them after the gig and it's a rush to find somewhere to sleep as we weren't supposed to play this gig so there is nowhere arranged to crash. Unbelievably this guy offers to put us up after seeing just ten minutes of the Deccies set. I get to have my only bath of the tour. We say thanks to the guy but have to admit he was a little off the wall. His entire lounge was wallpapered in pages from porno magazines!
Things are starting to go wrong from hereon in. Tomorrow we head back to Belgium with no gig to play. We muck around for most of the day and go for a drink with our promoter Kurt in his hometown of Laakdal. It's only a quiet town he says but when we arrive a the bar we find there's approximately 1000 students in the hall opposite going wild for no apparent reason and they all decide to descend on this one little bar. We all go back to Kurt's house and it's my turn to sleep outside in the car. Tonight, of all nights. It is freezing. I decide that I'd rather watch some of Kurts home videos of a dodgy nature (no, not that kind _ just some local heavy metal bands with ego problems filmed with one camera) than wake up with frostbite. Sleep gets the better of me though and soon I'm shivering in car sleeping fitfully. The human body was not ergonomically designed to lie across the front seats of a Nissan with the gear stick trying to force it's way between your legs (ouch)! In the morning I know it was cold even though I can't feel my legs as there's frozen drips of condensation on the inside of the windows and the roof of the car. It's about two hours before my feet feel attached to my body.
Today is Thursday and we're about to reach the low point of the tour. We think we are the third band on the bill with the Ex and No Means No, however the Ex do not think there is a third band and invite another band along as well. We lose out and don't play the gig, don't get fed and don't get paid and don't get anywhere to sleep. Pissed off? You bet. We head off to Amsterdam to, one _ find somewhere to sleep and , two have a good look around. We fail on the first count. While certain people who shall remain nameless (in order to protect the innocent lets call them Slug, Rid, Joey, Mobs and Neil) go off to check the red light district out I try to get some sleep in the van (we're sleeping in shifts). Not everyone gets to sleep in the van or car as there's not enough room so the next morning there's four very pissed off people, cold and hungry. Things can only get better from hereon in….
And they do! Tonight's gig is back in Germany at a great place called AK47 in Dusseldorf. This squatted venue has been going for around 8 years and despite this it hasn't been ruined but actually made better. It was kind of inspiring to see something like that. The gig was packed and the crowd was suitably wild. The two other bands were great too, STENGTE DORER from Norway and STAND ASIDE (no prizes for guessing if that band are straightedge or not) from Germany. The two guys who had put us on in Duisberg and some of the people from Aalst also came to the gig and so the whole thing just seemed like a really great night. Even the fact that we had to load in and out of the venue real quick because there was a guy with a gun in the flats opposite failed to mar proceedings! After a sound nights sleep we got up and went into town to have a look round. To be honest we found nothing and went back to get the van to drive back to Belgium for that nights gig with DI from America. Driving through the town we see a rock band playing outside a Chemist's. We slammed on the anchors and leapt out and somehow managed to persuade the poor fools that Dusseldorf would like an English hardcore band playing in the street on a busy Saturday morning. They fell for it and Decadence played two songs to an admittedly bemused crowd of shoppers and people standing in a line waiting to buy hamburgers. Piling into the van we made a quick getaway before they got wise to us. A fair old drive to Diepenbeek in Belgium followed for tonight's gig with ABSURD and DI. ABSURD sound checked, no sign of DI. Decadence sound checked, no sign of DI. ABSURD played, no sign of DI. Decadence played, no sign of DI. Then, just as the promoter was fast becoming a contender for losing her bowels DI turned up, set up and played a damned fine gig. After a lengthy drive round the country lanes of Belgium to find Diamond Dave in his Toyota we finally get our heads down for the last time.
We all overslept and had to really pull our fingers out to get to the last gig that night with HEIBEL and HDQ. I indulged in a few beers with HDQ and we yapped a while about their tour of France they had just done and it turned out they were going to get the ferry a half hour after us. They played after Decadence but we had to miss them as ours was due to sail in a short time. Sods law came into play and the ferry was late so we could have seen them play after all. They joined in the queue waiting for the ferry but we just got on one, which had a fire damaged deck so only a few vehicles were allowed on. This means we missed out on sharing a ferry and more importantly a bar with HDQ, who, ahem, a reputation when crossing the channel!
We got to Dover in the not so small hours of Monday morning and the inevitable decided to happen. Diamond Dave got stopped and his car was searched. It was hardly surprising; an artic with Stella Artois down the side could hardly have carried more beer! We pressed on and soon I was back at Junction 9 of the M25, 9 days later and with a story to tell down the pub that evening! Back to work on Wednesday but that's a different story.
"We get on the ferry and here we go "Brits on the piss"! Wait a minute though. This band really DOESN'T drink! They're violating rule one in the rock'n'roll rulebook and we haven't even left Blighty yet".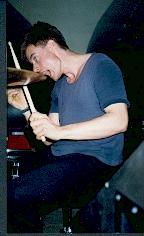 Drummer Mobs belts out another in Duisberg, trying to impress the locals into giving us somewhere to sleep tonight.
"We lose out and don't play the gig, don't get fed and don't get paid and don't get anywhere to sleep. Pissed off? You bet".

Rid, some geezer out of Stengte Dorer, Joey and Neil Shutdown veg out at AK47's.
"Decadence played two songs to an admittedly bemused crowd of shoppers and people standing in a line waiting to buy hamburgers. Piling into the van we made a quick getaway"

"This ones for the people at till 14, respect is not going out to those in the hamburger stand queue".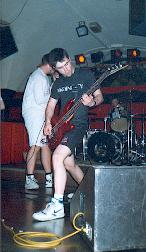 The Bassmaster General himself: Slug. Four string righteousness indeed.