Banksy Versus Bristol Museum show guide
WARNING: contains spoilers! If you want to have the fun of finding Banksy's exhibits throughout the Museum don't read this guide....
The guide was compiled by the Flickr Banksy group (especially Mr shellshock photos) including Stoogio, Funder1, Opal Fruits, Green.ribbon, MG/BS4, Walt Jabsco, johnmcga, wrecksandrelics, unusualimage, ishortman and ray182.
For the latest version of the guide, including advice on how to get to the museum etc. see the Banksy Flickr group here.
And when in Bristol why not check out these other Banksy / street art locations:

'Mild Mild West' Stokes Croft - an area full of tons of other street art from local and further a field artists. Near the junction of Stokes Croft and Thomas Street

'Sniper and child' where Upper Maudlin Street meets Colston Street.

'Lovers' where Park Street crosses over Frogmore Street.

'Cat marker' near junction of Robertson Road / Foster Street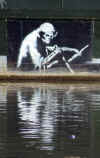 'Reaper' on the side of the Thekla floating club (can only be viewed from the opposite bank in East Mud Dock).

'Masked gorilla' Fishponds Road - near junction with Coombe Road
Easton underpass also has a mass of graffiti along with Bedminster skate park.
more Banksy in Bristol here:
photo copyright artofthestate.co.uk
BANKSY VERSUS BRISTOL MUSEUM SHOW GUIDE
ACCESS
The show is free, there are no tickets.
QUEUES
There's pretty much been a constant queue ever since it opened but arrival time does make a difference. Here's some queuing times sourced from visitors from a Monday early in August:
Arrived 08.45 - got in at opening time of 10.00, arrived at 10.30 - got in at 1pm, arrived at 2pm - got in at 4pm (with only an hour to see the exhibits)
PHOTOGRAPHY
You can take pictures of any Banksy exhibit but the use of flash is prohibited. If you want to take photos charge your batteries and take an extra memory card - there's a lot to see! The museum state that you are not allowed to take video, use a tripod or use a monopod.
OPENING TIMES
Check the official Bristol City Museum's website before you go. Typically the times are 10am to 5pm, seven days a week with last admission at 4.30pm. There have been some late night openings on a Wednesday and also on a weekend when hotels offered a late night package.
what to see and where...please bear in mind that exhibits may be moved, added to or taken away.
ON THE BUILDING
On 23rd July, a dummy dressed as Ronald McDonald appeared on the outside of the building (directly above the main entrance), sitting on a ledge, with a bottle of whisky by his side.

GROUND FLOOR

Entrance
Part of the 'Boghenge' installation that was done at The Glastonbury Festival in 2007

Reception Area (Labelled 'Information' on the flyer for the show)
• Ice Cream Van
• 'Metropolitan Peace' Riot Copper on a children's ride
• 7 statues (clockwise from front left side)
- David as Suicide Bomber
- Angel of the North
- Angel with Paint Pot on Head
- Lion Tamer (eaten)
- Bashed Up Buddha
- Homeless Venus de Milo (& melted bicycle)
- Renaissance Paris Hilton goes Shopping
British & South West Wildlife Room
• Riverbank Rat (with spray can) - In the 'River Bank' cabinet - This looks similar to the 'Banksus Militus Vandalus' rat sneaked into the Natural History Museum in 2004.

Assyrian Reliefs Room
Carved model of Jerusalem (by Tawfiq Salsaa) - with 284 toy soldiers and 1 terrorist added by Banksy

Egypt Room
'Reduced' Terracotta style Soldier

Left hand Passage between Reception and Unnatural History - by the Ladies toilets
Michael Jackson modified oil, and shrine (This was added after Jacko's death - On 6th July the Bristol Evening Post reported that another Banksy painting was being added to the exhibition - ".....placed above a black shelf on which stand several lit candles.")

Animatronics Room (Labelled 'Unnatural History' on the flyer)
(clockwise from front left side)
• Food Store (Hot Dogs / Sausages)
• Swimming Fish Finger(s) [sometimes there are two smaller ones or one large one]
• Chicken Nuggets
• Stone Slab ("The Bad Artists Imitate, The Great Artists Steal")
• CCTV Mothers and Babies
• Leopard Skin Coat
• Tweety Pie
• The Monkey as an Artist
• Vanity Rabbit

Café (Labelled 'Another Cafe' on the flyer)
Wooden Crate with Balloons

The Art of Banksy Room
(Clockwise from Entrance - approx)
Rodeo Girl on Spraycan
You have got to be Kidding me (a.k.a. £10,000)
The Artists Studio (including a paint splodged fire extinguisher shown on the exhibition leaflet)
Collection of Seven Images & Sketches (clockwise from top left)
- Degas X Factor
- Guns Magazine
- Isambard Kingdom Brunel (Rail Replacement)
- Portrait of the Prophet Muhammad
- Rhino Hunters
-'The Exact Same Bowls'
- Bomb Disposal Unit
Who Are All These People?
This Is Not A Photo Opportunity
The Key to Making Great Art is all in the Compositio
Go Flock Yourself
Dorothy - Not on Canvas Anymore
Hardhat Tortoise
The Lone Roller
'Banksy' tag in Cage
Heavy Weaponry
CCTV Britannia & Union Flag
Old St Cherub
Workers of the World Unite!
Punk with Mum
Luxury Loft Complex
Nob Artiste
Thomas the Tag Engine
Masked Writer / Bandit (& Step Ladder)
* Subject to Availability for a Limited Period Only
Rembrandt with Wobbly Eyes
Toff with Toy Arrow on Head
Idyllic Klan Hanging
Monkey Parliament
Flies on Still Life
Panda Trophy Head
Woman with Groucho Marx additions
Exit Through Gift Shop
The Power of a Big Gold Frame
Renaissance Couple (Seaside Style)
Riot Police Meadow
Plant Holder with Head
Donut Cavalcade
Fat Tourist Rickshaw
I Hate Mondays
Graffiti Related Activity Recorded by the Police
No Ball Games
This Is Where I Draw the Line (in dustbin)
Warped Wall

FIRST FLOOR

Landing (Labelled 'Maps' on the flyer)
• 'Escape from Guantanamo' - A Guantanamo prisoner in the Bristol Boxkite
• Leathered Priest (statue)

Geology / Minerals Section
• Dildo in the Stalagmites and Stalactites area
• Shopping Trolley Hunter on Rock

Wildlife in Glass Boxes Section
• Lamb with Muzzle

Gypsy Caravan
• Eviction Notice and Wheel Clamp on the Caravan

British Wildlife Section
• Fox and Countryside Alliance Fox Hunting Placard


TOP FLOOR

All modified oils, except those marked #
Most of the modified oils have a small label next to them, saying 'Local Artist', and giving a name and date for the painting.

French Art Gallery
• Agency Job (Gleaners) - 2009
• Girl At The Windows - 2006
• Water Spillage (No label on this one)

European Art Gallery
• Silent Night - 2005
• Venus (After Surgery) - 2006
• Landscape Near Hartcliffe - 2005

British Art Gallery
• Flight To Egypt (Budget Version) - 2009
• How Do You Like Your Eggs? - 2009
• Dogging - 2006
• UFO Invasion - 2006

Modern British Art Gallery
• Improved Spot Painting - 2009 (Banksy, over a Damien Hirst painting)

Victorian Art Gallery
• Home On The Hill - 2006

Glass Cabinet on the staircase between the Victorian Art Gallery & the Artists from Bristol Gallery

• Ice Cream Turd (this was originally on a plinth in the 'Art Of Banksy' room, but was moved at the start of the exhibition - I imagine it was considered a hinderance to the large crowds!) #

Artists from Bristol Gallery

• Home Sweet Home (No label on this one)
• Suitcase of Cash (Di-faced Tenners) [this was originally in the Costume Jewellery Area on the Ground Floor, but was moved here in mid-July] #

Boring Old Plates
• Hash Pipe #
• Ballet Girl (with Gasmask) #

Banksy news - read the aots banksy blog
Banksy street work photo galleries
London 0 1 2 3 4 5 6 7 8 9 10
11 12 13 14 15 16 17
Bristol / Seaside
USA / Europe
Banksy off street photo galleries
Turf War 1 2 3 4
Crude Oils 1 2
Barely Legal 1 2
Cans Festival 1
Banksy versus Bristol Museum 1 2
Santa's Ghetto 2003 2004 2005 2006 2007 2010 - M&S
Other Banksy Exhibitions 1
Banksy film and videos
Exit Through The Gift Shop DVD and film
Banksy videos
Banksy prints
screen prints / photo prints
Banksy books
Banging / Exist / Cut It Out / Wall and Piece /
All Banksy Books
Official websites
Banksy.co.uk (the real deal)
picturesonwalls.com (prints)
pestcontroloffice.com (authentication)
Banksy - stuff for sale quick links




Banksy FAQ