Banksy Versus Bristol Museum, Summer Show 2009
Banksy Versus Bristol Museum 2009. Not since 2005 (Crude Oils) has Banksy had a full on show in the UK. Banksy's Summer Show opened Saturday 13th June and is the largest show he has ever done.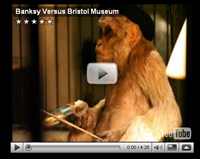 BANKSY VERSUS BRISTOL MUSEUM VIDEO
In a statement Banksy said: "This is the first show I've ever done where taxpayers' money is being used to hang my pictures up rather than scrape them off".
"This show is my vision of the future, to which many people will say: 'You should have gone to Specsavers'."
Talking to the Times Banksy said "I've stuck some of my own paintings up in a museum. Only this time they're going to let them stay up for the whole summer. I won't be making a habit of it. Museum shows are like Center Parcs: you can do it once to get it out of your system, but you don't want to live there.
"Some of the fake historical relics I've inserted among Bristol's permanent collection should be entertaining — you can't tell what's truth and what's fiction. It'll be like walking through a real-life Wikipedia".
Banksy explained the reasons for holding the show to the Bristol Evening Post "The people of Bristol have always been very good to me – I decided the best way to show my appreciation was by putting a bunch of old toilets and some live chicken nuggets in their museum.
"I could have taken the show to a lot of places, but they do a very nice cup of tea in the museum."
photo copyright artofthestate.co.uk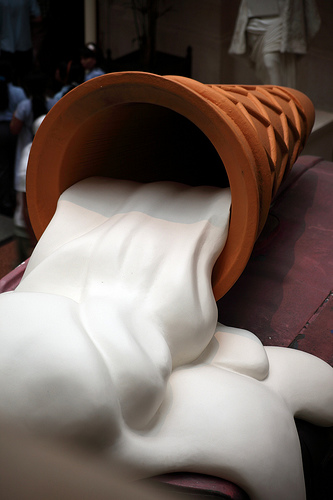 Banksy Versus Bristol Museum Summer Show 2009
"Contains scenes of a childish nature some adults may find disappointing"
For all the latest information including a very neat video trailer for the show go to banksy.co.uk.
Banksy news - read the aots banksy blog
Banksy street work photo galleries
London 0 1 2 3 4 5 6 7 8 9 10
11 12 13 14 15 16 17
Bristol / Seaside
USA / Europe
Banksy off street photo galleries
Turf War 1 2 3 4
Crude Oils 1 2
Barely Legal 1 2
Cans Festival 1
Banksy versus Bristol Museum 1 2
Santa's Ghetto 2003 2004 2005 2006 2007 2010 - M&S
Other Banksy Exhibitions 1
Banksy film and videos
Exit Through The Gift Shop DVD and film
Banksy videos
Banksy prints
screen prints / photo prints
Banksy books
Banging / Exist / Cut It Out / Wall and Piece /
All Banksy Books
Official websites
Banksy.co.uk (the real deal)
picturesonwalls.com (prints)
pestcontroloffice.com (authentication)
Banksy - stuff for sale quick links




Banksy FAQ