Arofish was mainly active in the early to mid 2000's originally painting in London but then producing work in several groundbreaking locations around the World. He often appeared first in the last places you'd find international street artists including work in Iraq, Palestine (he was painting the segregation wall before a certain other artist) and Lebanon. 
Somewhat unusually Arofish (aka Jim Matthews) decided early on that his stencils would be based on his own drawings rather than the usual images copied from other sources. It's been interesting to see his style and technique evolve in quality over the years.
He's had a few shows along the way. Cold Blow Lane in South East London was home to a great deal of his work at one time, including the work that formed the basis of his best known print. In addition to this he held 'Scrapped' at New Cross Gallery in March 2008 and an earlier show in 2004 in the basement of Foundry, a disused bank turned into a bar in Old Street, Shoreditch.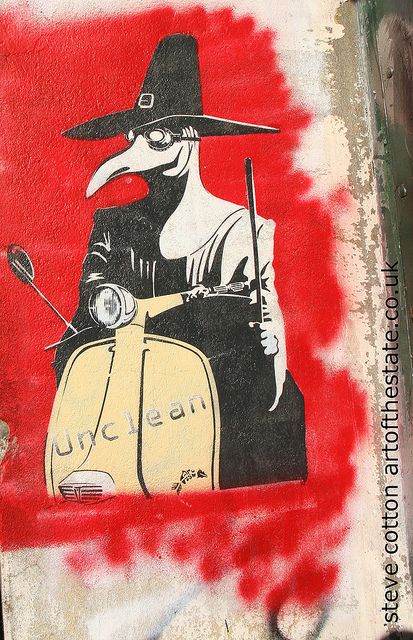 Arofish – Plague Doctor in Boot Street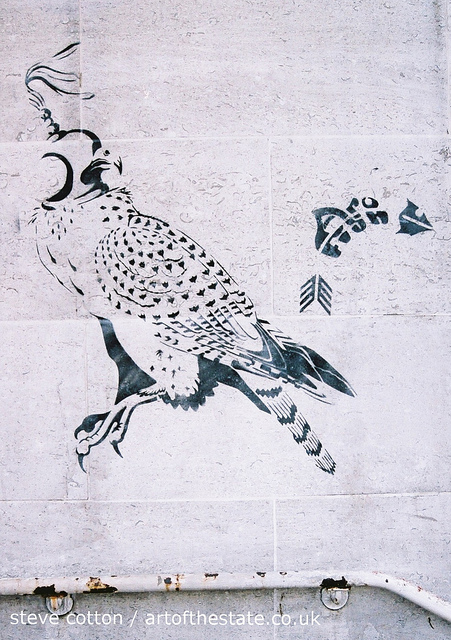 Arofish on the South Bank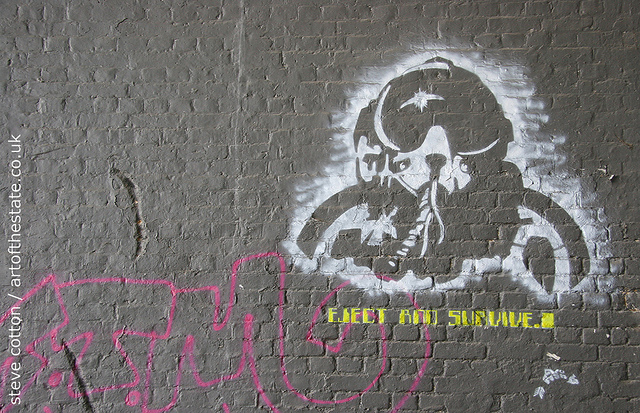 Arofish – Eject and Survive, London Bridge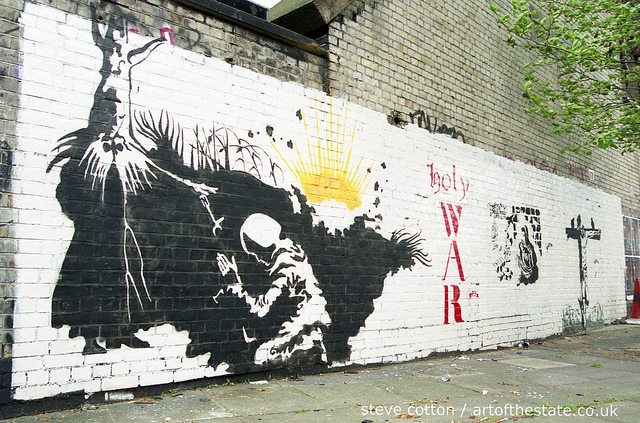 Arofish gallery in Old Street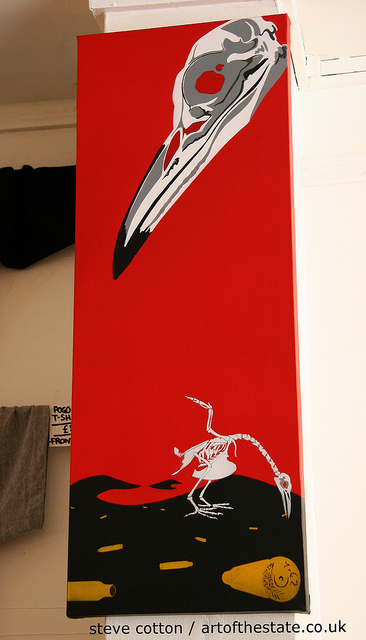 Arofish canvas on display at the now closed vegan Pogo Cafe in Hackney.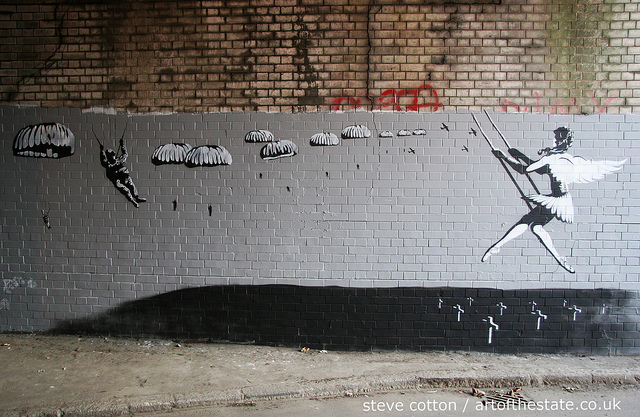 Arofish – Paras and Angels in Cold Blow Lane, New Cross. This design was later turned into a print.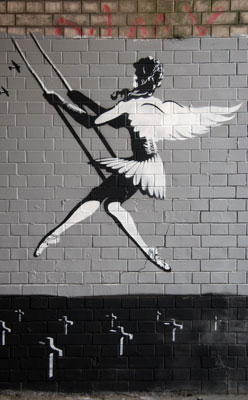 When I was taking this picture of Arofish's work in Cold Blow Lane a passing motorist hooted their horn and got out. Normally this means I'm about to get a mouthful along the lines of 'you saddo, what do you want to take pictures of that for' blah, blah. One time this was even done by someone in a Tottenham shirt (which made it all the harder to take seriously)! So it made a nice change for a lady to ask who it was by and then to tell me how much it brightens up a depressing tunnel and even her day. I have to agree.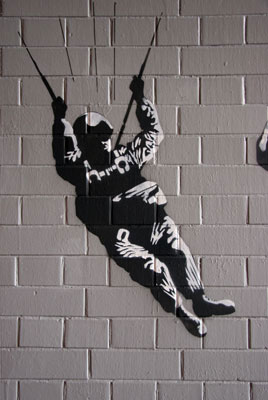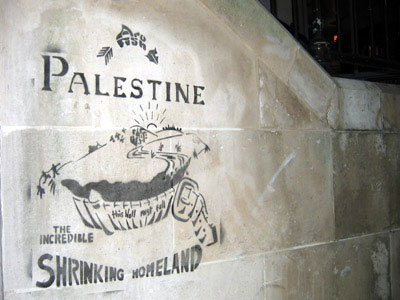 Arofish – Palestine – the Incredible Shrinking Homeland (Southbank, London) 2004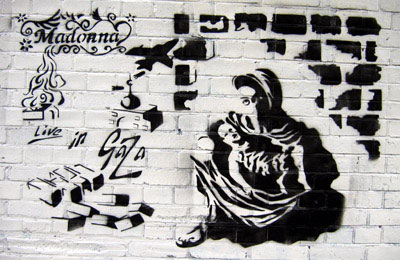 Arofish – Old Street Madonna Live in Gaza – a reworked version of the live in Gaza image from a station walkway in London Bridge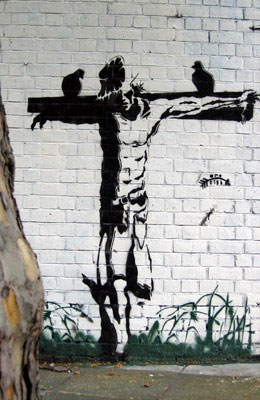 Arofish – scarecrow on a cross (Old Street roundabout, London) 2005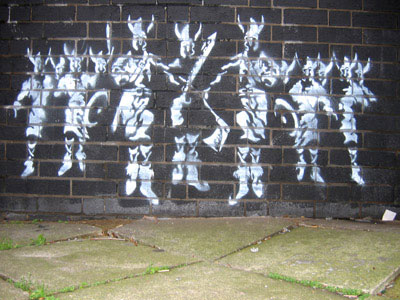 Arofish – Rogue Seekers (Old Street roundabout, London) 2005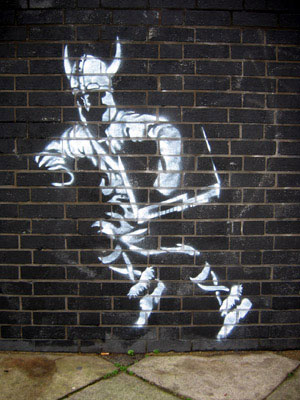 Arofish – Rogue Seekers detail (Old Street roundabout, London) 2005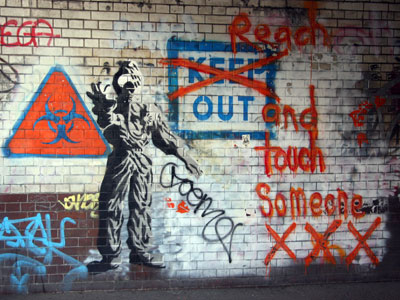 Arofish – Reach. At one time this tunnel in Cold Blow Lane, New Cross pretty much featured all of best known Arofish's stencils but i I doubt anything now remains.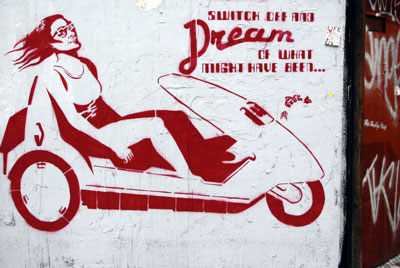 In August 2005 Arofish held a show at the Foundry near Old Street. This "Switch off and dream" piece was sprayed up on the outside of the building.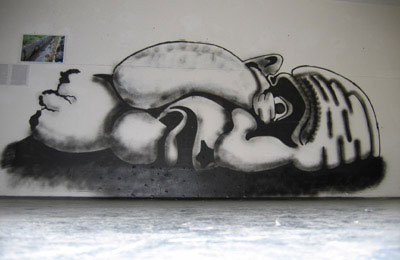 The show was held in the basement of the Foundry and featured many of Arofish's large scale works from his time in Palestine. This stencil shows half of Ariel Sharon's face lying in a pool of sewage.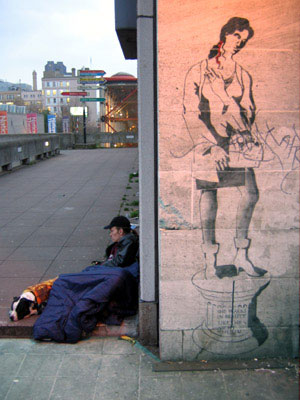 Arofish – South Bank, London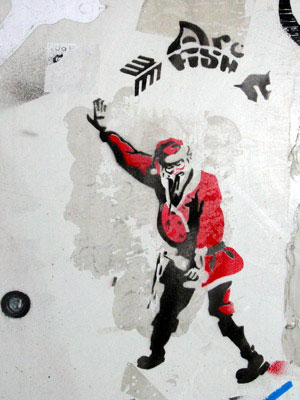 Arofish – Santa (2005)
Back to LONDON STREET ART index