Banksy – Banging Your Head Against A Brick Wall book
Banksy – Banging Your Head Against A Brick Wall book
Banksy – Banging Your Head Against A Brick Wall • ISBN: 0954170407
Publication date: 01/11/2001 • 56 pages • A6 • ISBN-13 978-0954170400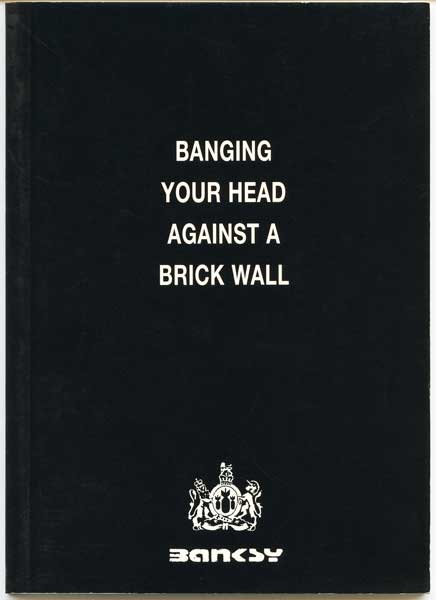 Banksy's first book was a little A6 book released back in 2001 entitled 'Banging Your Head Against A Brick Wall'. At the time of its release it sold for around £5 for a copy. It's now out of print but a fair bit of the content (with some notable exceptions) can be found in his most comprehensive book 'Wall and Piece'. There may be different editions available. I've owned two copies, one with a very high gloss sheen to all of the pages and one with a more matt finish.
Inside there is much of his early work. letters, quotes and a neat line in being both self deprecating whilst espousing some revolutionary concepts. Sample Banksy prose…."You could say that graffiti is ugly, selfish and that it's just the action of people who want some pathetic kind of fame. But if that's true it's only because graffiti writers are just like everyone else in this fucking country".
Some of his best known images are included. Rats, flower throwers, CCTV and chimps with placards have become near universal but here they are in their original locations. There's plenty of subversion too such as his 'Authorised Graffiti Area' stencil which resulted in a mass sprawl of graffiti on what was once a white wall.
Maybe the most prophetic quote in the whole book is in the opening pages. "The quickest way to the top of your business' is to turn it upside down". He's certainly done that alright. The letters section at the rear is in part pretty hilarious as well as instructive. There are letters of rejection and letters of praise in equal measure.
Features Banksy graffiti from Bristol, London and some of his paintings on things other than walls.
ISBN 0954170407, 56 pages
Return to Banksy Books – a complete guide index