Banksy's Bristol – Home Sweet Home book review
Banksy's Bristol – Home Sweet Home book
Steve Wright / Richard Jones Tangent Books; 2008, ISBN 978-1906477183 / ISBN 978-1906477189, 112 pages.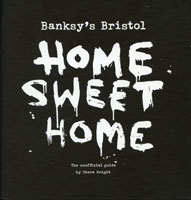 What's it about? A look at Banksy's early career before he became a household name (well everyone in my household has heard of him by now anyway)
Unique Selling point: Some genuinely interesting content and insights put together with care from contacting people who know.
Not so great: Let's face it, camera and picture quality often sucked in the late 90's.
Who's it for? Those with an interest in the early days. There's an updated version now available with added Dismaland content.
BUY NOW
Return to Banksy Books – a complete guide index