Banksy – Prints and Original Artwork buyers guide and advice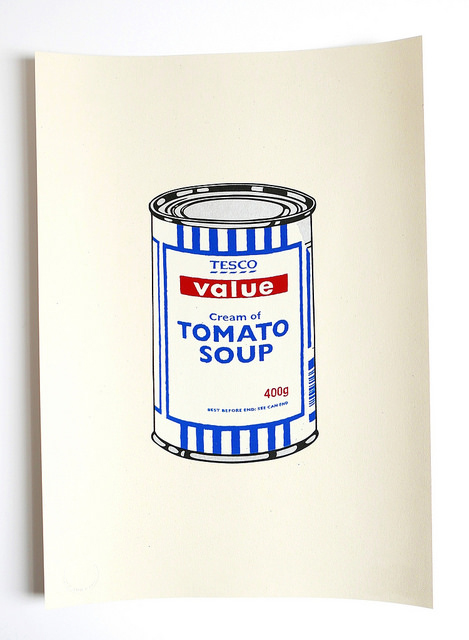 Genuine Banksy prints and original art now require very deep pockets when buying on the secondary market (recent auction prices start at over £10K for even the cheapest print that cost £40 when first released). At times there's been a number of fakes out there so it pays to do your research and only buy from trusted sources.
Please note that artofthestate.co.uk does not sell or value Banksy prints or original artwork. Neither do I have any information on when new prints may become available.
WHERE TO BUY:
The simplest advice I can give you is to  buy from official sources when available and to only spend serious money on work that comes with Pest Control authentication. If you follow these two rules you'll never be disappointed. The official sources are as follows:
Banksy Prints: Picturesonwalls.com aka POW (closed since 2017)
Banksy Original Artwork enquiries: Pest Control Office "a handling service acting on behalf of the artist Banksy". Currently there is nothing available.
Banksy Gross Domestic Product online shop: 'The homewares brand from Banksy'. Currently there is nothing available but this seems the most likely source of the chance to buy newly released Banksy items in the future.
Bbay 'The approved used Banksy dealership' is also a potential officially endorsed source of 'second hand' Banksy art and prints but it has not launched to date.
In 2019 Banksy did produce a new print (Basquiat) available to the public via a lottery system as part of his Gross Domestic Product shop in Croydon. These are also long gone. It's never clear whether more prints are forthcoming but should that happen demand is very likely to outstrip supply.
CHECKING AUTHENTICITY:
A lot of fake Banksy prints can be easily spotted by checking online against readily available information such as edition sizes, dimensions, distinguishing features but there is really only one way to buy a genuine work with absolute confidence:
Pestcontroloffice.com can authenticate any original Banksy work or official Banksy print for a fee. Once authenticated they can issue a Certificate Of Authenticity which includes many anti forgery security measures.
Pest Control offer a 'Check Before You Buy' service on their website which can give you certainty on whether what you are considering buying on the secondary market is authentic or not.
Please note that Pest Control will not authenticate any work that has been removed from the street.
BANKSY ON EBAY:
There is a huge amount of Banksy material on Ebay – most of it at the time of writing is simply posters of photographs of his work on the street or copies of canvases and screen prints he's produced.
Banksy has made his feelings clear on this stuff via a statement from Pest Control:
"But neither Banksy or Pest Control licence the artist's images to third parties. Please do not use Banksy's images for any commercial purpose, including launching a range of merchandise or tricking people into thinking something is made or endorsed by the artist when it isn't".
Whatever you think don't buy any of this mass produced and unofficial stuff stuff in the hope that it will go up in value and never pay much more than the cost of getting the photograph reproduced yourself – something Banksy himself encourages you to do, again via Pest Control:
"You are welcome to use Banksy's images for non-commercial, personal amusement. Print them out in a colour that matches your curtains, make a card for your gran, submit them as your own homework, whatever".