So it's on and the location is officially now announced. For anyone who might need a clue where to find this years Santas Ghetto have a look at the picture below. If you want know more visit picturesonwalls.com but here's the low down on the whole thing:
"The Ghetto is a squat art concept store that opens for the month of December and is now in it's fifth magical year. It features some of the world's finest underground artists and attempts to bring an even greater sense of disillusionment to the whole West End shopping experience. It exhibits work that has never been seen before, sells a range of affordabe art and produces some rather dubious novely merchandise"
Featuring: Mark Jenkins, Ericailcane (eric the dog) – some great art in the back right hand corner, Emma Heron, Peter Kennard and Kat, Ben Turnbull, Antony Micallef, Tom Ormond, Banksy, Simon Munnery, Tittifreak, Eine, David Shrigley, Jamie Hewlett, Pete Fowler, Kelsey Brooks, Tinsel Edwards and Space Invader.
I'm sure Insect was in there too….
Hours of business (as advertiesed on a flier last night)
11am – 8pm (Sunday 12-6pm)
Closes 23rd December (forever)
Congratulations to all involved for making this happen against the odds.
Father Christmas is a lie, however, the Ghetto really is on and open.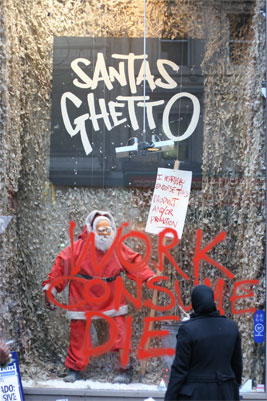 Need any more help with the location? OK, 15 Oxford Street, London – just follow the shoplifters out of Tottenham Court Road Tube and go into the first shop on your left.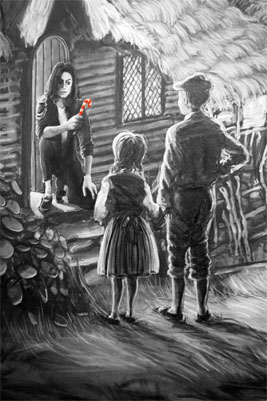 Detail from the Hansel and Gretel canvas – a huge thing covering a back wall. More photos of SG after it's been open a while.