Well that all took a little longer than expected but I'm back in the country. Has Stansted Airport along with Ryanair become the rock worlds airline of choice? Lemmy from Motorhead was waiting for a car outside the airport terminal and before that I shared the boring baggage reclaim section with half of Conflict!
Anyway here's something a bit on the massive side, Eine's new supersized 'Scary' piece in Rivington Street (opposite Cargo). Great stuff, dingy tunnel and huge accompanying text. All of which means that I can mention that Eine has a rocking new website einesigns.co.uk and a solo show coming up (details on his website).
Adam Neate has a solo show at the Elms Lesters painting rooms on at present. I went along today and it is simply stunning. Everything has long since sold out but it's on for a while yet so if you are in town this would be the first place I'd recommend going to because there's no better show on at the present time. Elms Lester have been supporting street artists for a many years now to not much financial reward so it's good to see them have a such a successful show for all their hard work.
I think this may have finally gone now (correct me if I'm wrong) but here's the punk girl piece by an unknown artist outside the Roundhouse in Chalk Farm.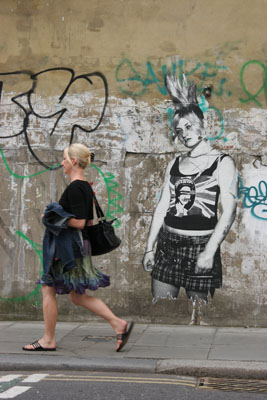 Finally for today I never managed to get a ticket for Ruts with Henry Rollins gig (£150 for a pair on Ebay) but somebody has kindly posted up some videos on YouTube. Great stuff – find them here. There's an official benefit DVD to come too. The Ruts and Rollins was a great combination, great music and a great front man (just don't ask me what happened when I interviewd Henry Rollins many moons ago)!
More soon