Cans Festival 2.
The Cans Festival tunnel was looking decidely battered earlier this week with pretty much everything being tagged over. While that had its own charm it was as good a reason as any for the tunnel to get a timely new makeover.
With just Banksy's Gorilla with roller, Faile's metal wall and Vhil's stunning piece surviving from the first show the half mile or so of walls in the Leake Street tunnel in Waterloo, London have been reworked over two days by the likes of ATG crew, Chu, Shok1, Part2ism, Word To Mother, Copyright, Vhils, Pure Evil, Zeus, Sweet Toof, Rough, Elk, Waleska and more. 
A few immobolised cars litter the tunnel and this time they are going to stay a while (well thats the plan anyway). The tunnel is open 24 hours a day from today onwards. Good news – there's plenty of space so there are no queues this time around.  
More photos on the Artofthestate Flickr photo stream.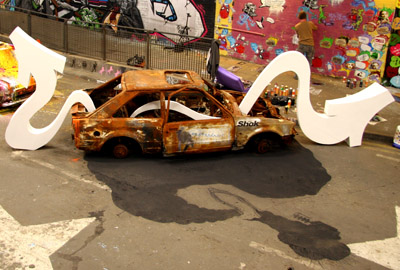 Shok1 (shadow) and Zeus (3d tag)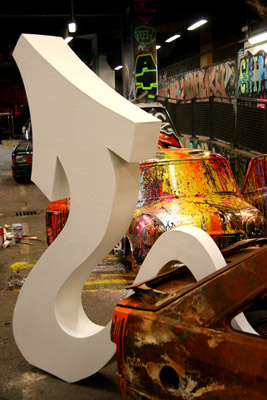 Zeus 3d tag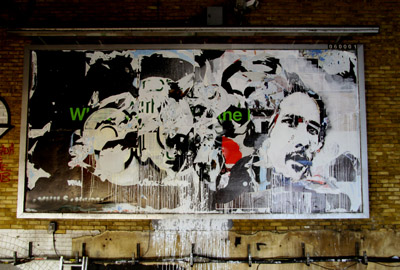 Vhils strips back the previous 'Gentrify This' poster and applies his stencil technique to the remains.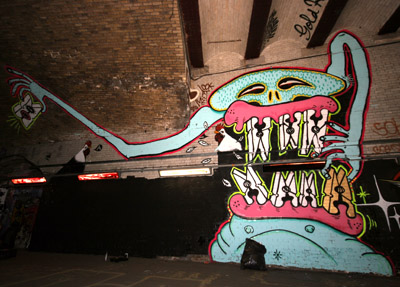 As usual Sweet Toof goes massive – the roof is taking a battering this time around.
The tunnel with wrecks which will stay in place for a while