Ouch, apologies for the headline but it got your attention, right?!
'Across the Tracks And Through The Looking Glass'
Jon Hammer (aka Elate) has extended his website to incorporate a great new blog. I'm rating it because it includes some pretty unique content from back in the day along with recent work and a nice conversational writing style to keep you wanting more. I featured Jon's tribute to London's Graffiti Pioneers on here earlier in the year and its story is finally explained in full here. There's also a whole raft of Elate pieces mixed up with oil on canvas work throughout the blog along with some great photos of the Covent Garden Writers Bench 25 years reunion where rain only temporarily stopped mayhem.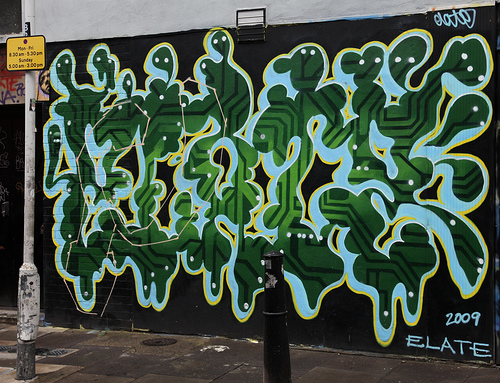 Elate in Brick Lane, 2009
And thank you for your support for yesterday's blog post!