Banksy pieces at charity auctions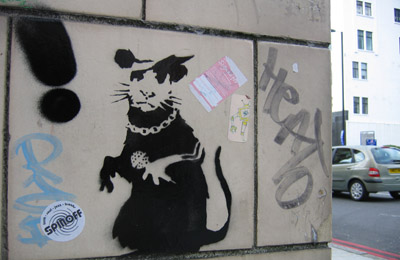 Banksy Moorfields Eye Hospital rat. photo: artofthestate
Banksy's Moorfields Eye Hospital rat has resurfaced to be included in a charity auction after being hidden behind a board for years. I'm not sure if the 10Foot tag will be left on the piece (see the photo in the Guardian article)!
"For four years it has been hiding behind a hoarding on a hospital wall, but tonight one of Banksy's most famous rat stencils will be revealed again when it goes on sale at a charity auction.
The graffito, Gangsta Rat, which shows a medallion-wearing rat clutching a microphone, appeared on the wall of the Moorfields Eye hospital in London's City Road in late 2006, but was covered up soon afterwards to protect it – and the hospital wall – from damage or theft.
Now, Moorfields has decided to auction off the work to raise funds for its research into new treatments for eye disease. It will go under the hammer tonight at The Art of Giving event at the Saatchi gallery …" continues on the Guardian
Elsewhere the ever excellent Nuart blog recently picked up on a story of another Banksy piece at a charity auction. This one looks custom made. Read the full story here.
Lot 396 Description
Banksy (b. 1975)
Untitled
signed 'Banksy 010′ (on the reverse)
spray enamel on found aluminium sign
35¾ x 35¾in. (90.9 x 90.9cm.)
Executed in 2010
Estimate (Set Currency) £35,000 – £45,000
($54,915 – $70,605)
Pre-Lot Text
PROPERTY SOLD TO BENEFIT RESTORATION FUND FOR 'DEFENESTRATION' SCULPTURE IN SAN FRANCISCO
More on the Defenestration project 
here
Provenance
Donated by the artist, authenticated by Pest Control.
Post-War & Contemporary Art Day Auction .15 October 2010 . London, King Street