Banksy 'Boxhead' update and an interview with the Producer and editor of 'Exit….'
First shown on Banksy's website in early October 2010 it took a while for the location of the boy with the box head to be traced back to the side of the Grosvenor Hotel in Torquay. The hotel first noticed it appearing between Sunday night and Monday morning but whilst thinking of it as a 'quality' piece of graffiti didn't make the connection between it and Banksy until a conversation with a fan some days later. Aware that other recent pieces in the UK had been pretty savagely trashed they took the decison to first cover it up with boards and then to place a temporary perspex cover over it (in the full glare of the attendant BBC and Sky News crews)!
I arrived a day later to find the piece covered in perspex held together with silicone in places and with some extra wooden strips. The very friendly and considerably chuffed members of staff at the hotel were at pains to point out that this covering is only temporary and will be replaced at some point with protection that will enable the whole piece to be seen unobstructed. In the meantime its already quite a tourist attraction….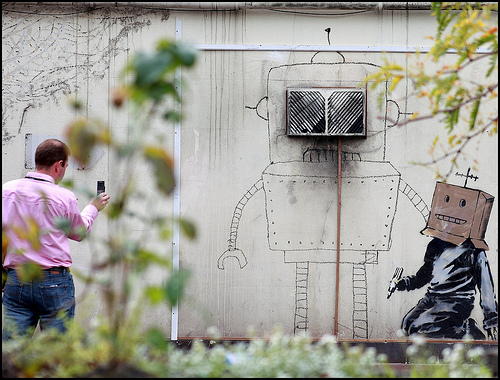 Elsewhere an interesting if lengthy interview has appeared which explains further the background to Banksy's film 'Exit Through The Gift Shop'. Movie City New's David Poland asks the questions of producer and editor Jaimie D' Cruz and Chris King and we gain new insights into the fact that sometimes the truth is stranger than fiction. Well worth watching if you have 40 odd minutes to spare and want to find out more.