London 2012 – The hypocrisy of a graffiti crackdown
With London in lockdown right now due to the imminent arrival of the Greatest Security Event On Earth it was perhaps inevitable that a round up of potential threats would take place. Following the pattern of the the Royal Wedding swoops of last year there has been a flurry of pre-emptive strikes against the usual suspects but who would of thought that these would now include graffiti artists amongst their number? This draconian measure which imposes restrictions such as prohibiting travel on public transport, being within one mile of Olympic venues, being in possession of spray paint and having your computers removed for investigation looks like hypocrisy by the Olympic 'family' on a massive scale.
London 2012 were quite happy to use London street art and graffiti in their Olympic Games Handover show video premiered at the Beijing 2008 closing ceremony. In a bid to portray London as a cool happening city they featured a figure quite clearly painting on a wall in their slick promotional film. 
Come to London and see its vibrant street art scene seemed to be the message broadcast to hundreds of millions if not billions of people. Fast forward to 2012 and it's a completely different story. It's apparently not enough to place missile batteries on peoples homes and introduce new sophisticated population monitoring techniques that make us one of the most watched nations on Earth. No, they have restricted the words we can use so they can protect key corporate sponsors such as Coke, Adidas and McDonalds. A poster by Space Hijackers as part of the Brandalism campaign questioning the dominant force of advertising challenged this head on recently. It didn't last long despite being on a 'dead' billboard site (one which is used by advertisers but has no right to be there).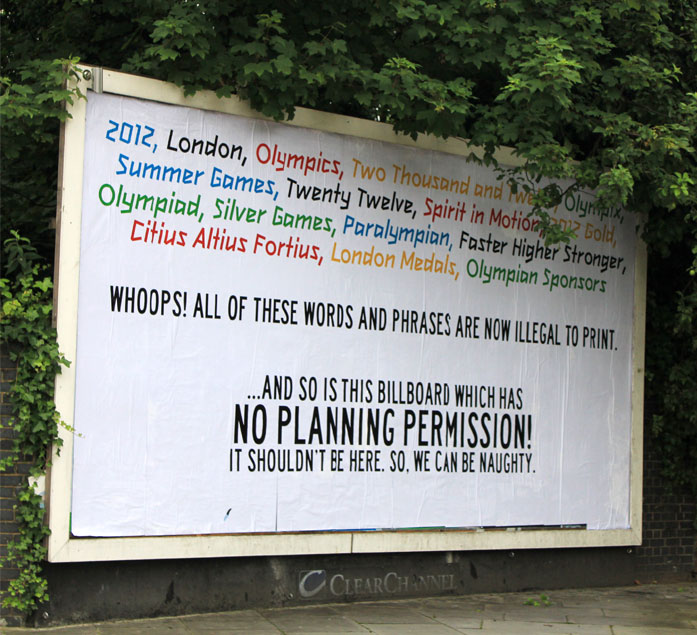 Image from Brandalism
In some combinations these words include such obscure phrases as London, 2012 and Games. This protection racket is being enforced by those you'd think would have better things to do right now. The British Transport Police in fact. Do you really feel safer in your bed at night knowing that they have bailed until November Darren Cullen who often spends his working day producing graffiti art for corporate clients? For a safe and secure Olympics do we really need to prevent someone being able to paint a wall within a mile of the rowing at Dorney Wick? Or perhaps you might think that the Olympic slogan is not so much Faster, Higher, Stronger but is instead more akin to Paranoid, Controlling, Repressive.
You may, like me, not be particularly keen on graffiti being used by huge brands in advertising either but there's a more fundamental issue at stake here. Ultimately we've been mugged into giving up chunks of our freedom so that Coke, Adidas and Cadbury can secure their monopoly to flog us more stuff. Ever feel you've been cheated?