A little bit of fun with a Nokia Lumia 1020
Over the past month I've been trying out the new 41 Megapixel Lumia 1020 smartphone from Nokia. As part of the trial Nokia supplied two miniature figures similar to the type Slinkachu uses in his pictures and suggested using these to have some fun with the Lumia's camera. So I've had them in my pocket when I've been out and about and here's the results to date: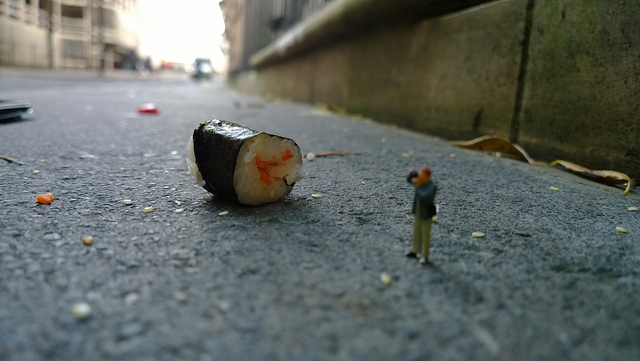 First go with the camera and a discarded Sushi roll on a City Of London street is a decent find for the photographer figure.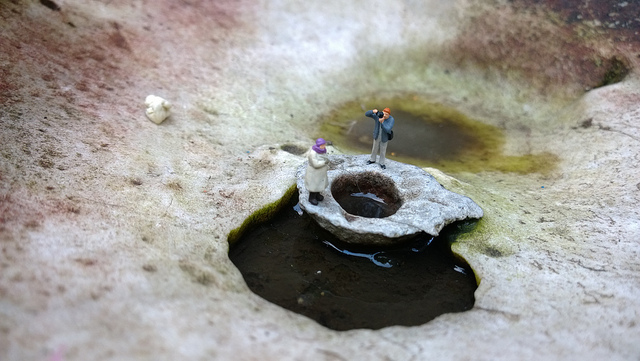 Down in Brick Lane I added the second figure for the first time – an old lady in a hat and scarf. The centre of a a disused fountain provided the desolate backdrop.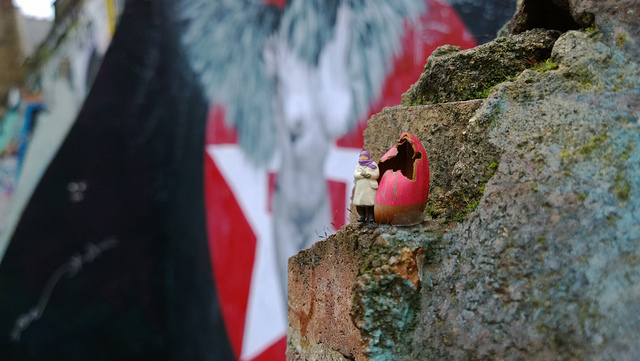 A bit further on and I incorporated the lady into the remains of another miniature street art piece whilst behind was a much larger wall work featuring a lady wearing a great deal less.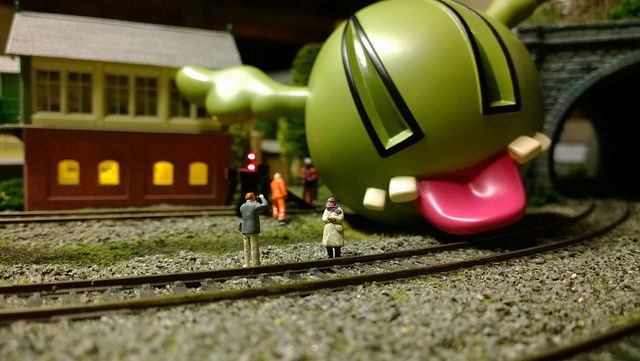 Slinkachu style figures are more typically at home on a model railway so knowing exactly where to go to get this photo helped. To give the shot a street art kick I added a Dface D-Dog figure as if it had crash landed there (a nod to this Dface installation).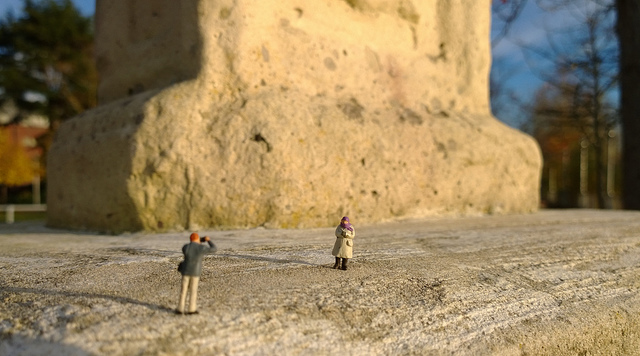 Out in the early evening alongside the river in Staines a statue base gave the impression that we were more likely to be in ancient Egypt (if you ignore the trees in the background)!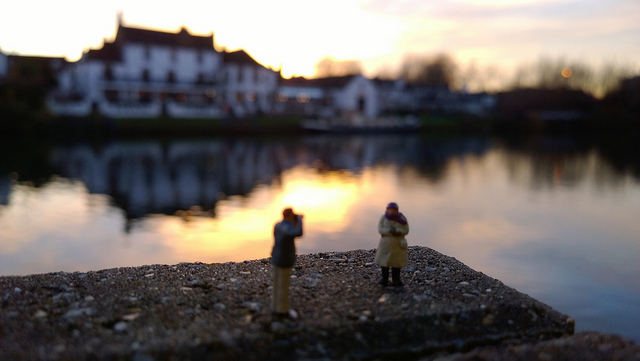 Looking the other way in the same location our lady wanted her image taken against the backdrop of a setting sun. Ah, nice.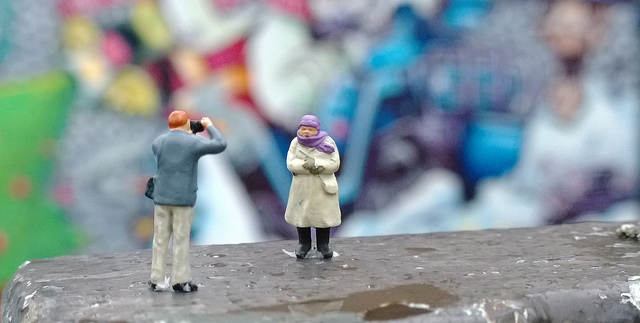 Back in Shoreditch – graffiti at the end of Willow Street provided another photo opportunity for the couple. If she looks cold it's because it was!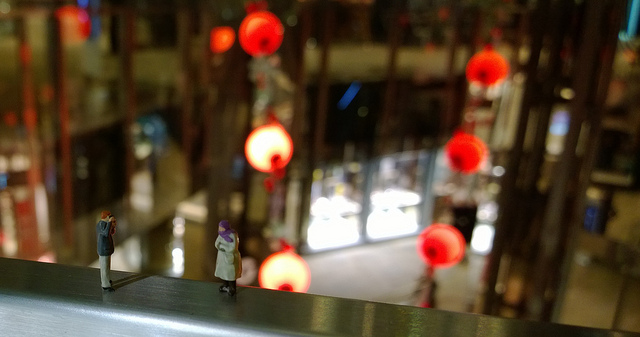 Heading indoors this was taken in One New Change, a recently built shopping centre in the City near St Paul's that looks more like something out of Bladerunner in this picture.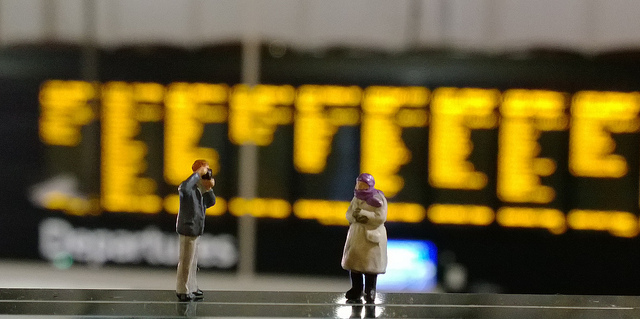 Waterloo Station now with the train departure boards in the background. It's nice to see the effective blur the camera produces but I was looking for something that would show off the camera's bokeh capabilities.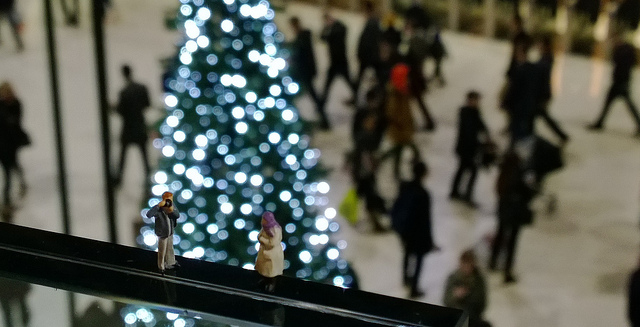 And this was it…a Christmas tree on the concourse provided some beautiful circles of light in the background of the picture and really show off the 1020's ability to produce a 'bokeh' effect.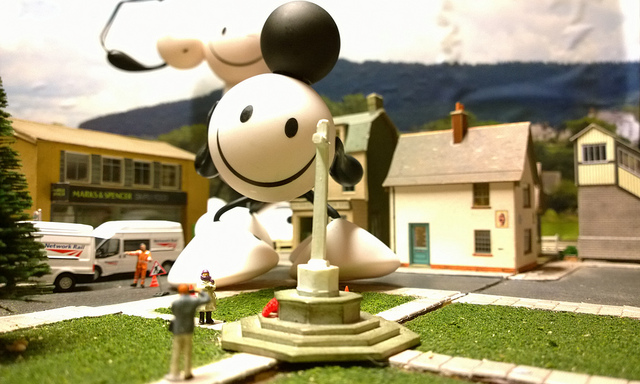 Finally here's another shot taken on a model railway with a London Police 'Lads' figure causing a commotion in the centre of the village square. The battery grip that can be attached to the Lumia 1020 has a tripod socket which proved very useful in setting up this shot.
The 1020 will be off back to Nokia in just a few days. It's been just great to have all this capability in my pocket for the past month and I'm going to miss it….